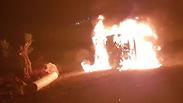 The Iksal price tag attack
2 cars torched at Arab village in northern Israel
Police investigating hate crime in village of Iksal; in addition to arson, graffiti saying 'Jews, let's win' sprayed on nearby wall; 'I will not be surprised if this crime is committed again elsewhere,' says vehicles' owner; police: investigation will be prioritized; 2 additional price tags attacks carried out Wednesday.
Two cars were torched overnight Tuesday in the northern region village of Iksal and a stone fence was sprayed with "Jews, let's win" in a suspected hate crime.

Police were called to the scene, collected evidence, searched for suspects and opened an investigation into the incident.

Police noted the investigation will receive top priority, with several similar such incidents taking place around the West Bank recently, the last of which happened Wedesnday as well—the walls of residences in the village of Jalud in the Binyamin region were sprayed with "Let us handle them" and "Take our destiny in our own hands."

Footage of the Iksal hate crime (Hebrew)

Adham Habash, the owner of the vehicles, said Wednesday morning, "My father went outside at 2:30am after hearing a noise and saw a man escaping into an olive orchard. He then saw our two vehicles on fire and started putting it out. After finishing, he noticed the graffiti on our house's wall and realized it was a 'price tag' attack."

"This is a very serious incident. I will not be surprised if the same actions are taken again elsewhere. If the police don't get them, it will just keep happening again," he lamented.

Joint List MK Ahmad Tibi said the attack was serious and racist and that it "necessitated determined police action to end hate crimes towards Arab citizens."

Just as police cannot root out crime in Israeli-Arab communities, the MK said, so it has failed in blocking "price tag" attacks targeting the same population.

The northern district's firefighting services said firemen from the Afula regional station were rushed to the scene of a vehicle fire between Iksal and Daburiyya. The team found two vehicles on fire and put them out. An arson investigator was dispatched as well, the service said.

Security officials have warned of escalation in the north, brought about by the actions of right-wing vandals.

The string of hate crimes perpetrated by Jews over the past few weeks—which continued last Tuesday with the spraying of graffiti and the torching of a mosque's door near Nablus a week and a half ago—has been a cause for concern for the IDF, police and Shin Bet, due to the fear the "price tag" operations will be countered by Palestinian terrorist attacks.

CCTV footage of the arsonists

About a week ago, the epithet "Arabs out" was sprayed on the wall of the Abu Abu-Bakr Al-Siddiq mosque in Umm al-Fahm and the entrance door to the place of worship was torched. The Umm al-Fahm police said an investigation was underway and a "price tag" operation was suspected.

This past March, anti-Arab graffiti was sprayed in Jaljulia and 20 vehicles were vandalized. The writing "Arab criminal" was sprayed on one of the town's homes, cars' tires were slashed and other epithets were sprayed on windows.

Tensions have also grown between police and Shin Bet and Hilltop Youths recently. In the past month, for example, hateful graffiti was sprayed in east Jerusalem's Beit Hanina and in the village of Fara'ata, in the Samaria region of the West Bank, with the latter incident seeing "Stop administrative orders" and "Administrative price tag" inscribed.

In the villages of a-Lubban ash-Sharqiya and Aswiya, meanwhile, "Deport or kill" and "Stop administrative orders" were sprayed.

Several weeks ago, three settlers received serious punishments for taking part in hate crimes, when the Lod District Court handed down jail terms ranging from 32 months to five years.

One of the defendants, who was a 16-year-old minor at the time the crimes were committed, was convicted as part of a plea bargain of membership in a terrorist organization, arson, assault under aggravated circumstances motivated by racism, sabotage with aggravated intent and other offenses. The court sentenced him to five years in prison.

Another defendant, who was a soldier at the time of the offenses, was convicted of arson, vandalism with racist motives, assault under aggravated circumstances motivated by racism and other offenses. The court sentenced him to 4.5 years in prison.

A third defendant was convicted of offenses that resulted in malicious damage stemming from racist motives, stone-throwing at vehicles and other offenses, and the court sentenced him to 32 months in prison.

The defendants were also required to pay an agreed-upon compensation of NIS 50,000 to their victims.

The trial of three additional defendants is still ongoing.