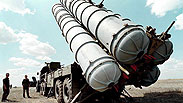 MOSCOW - Russia plans to deliver new air defense systems to Syria in the near future, Russia's Defense Ministry said on Wednesday.

The ministry added it plans to study a US Tomahawk cruise missile captured by Syrian forces in a recent attack, in order to improve Russia's own missiles.

The head of the Main Operations Department at the Russian General Staff, Col. Gen. Sergey Rudskoi, confirmed to journalists that Moscow intends to arm its ally, Syrian President Bashar Assad.

"Russian experts will continue to train Syrian military servicemen, particularly teaching them to use the new missile defense systems that are planned to be delivered to Syria in the near future," he said.

While neither Rudskoi nor the Russian Defense Ministry made any mention of what air defense system they plan to supply Assad with, it is likely to be the advanced S-300 system.

Earlier this month, Rudskoi said Russia may consider supplying S-300 missile systems to Damascus and other countries in the wake of the American, French and British air strikes on Syria.

On Monday, Russia's daily Kommersant newspaper quoted unnamed military sources who confirmed Moscow was considering such a move in the wake of an attack on the T-4 airfield in Syria, which was attributed to Israel.

Kommersant said that experts believed that Israel would react negatively to any decision to supply the missiles and might bomb the area where they would be deployed, warning against it.

Defense Minister Avigdor Lieberman said Israel would not hesitate to strike back if the Syrians use the Russian-made missiles against it.

"What's important to us is that the defensive weapons the Russians are giving Syria won't be used against us," Lieberman told Ynet. "If they're used against us, we'll act against them."

Israel is worried the advanced air defense system would hurt its air forces' aerial superiority in the area and would limit its freedom of operations. Jerusalem has asked Moscow several times to postpone the delivery of the S-300 to Assad, to no avail.

Russian Foreign Minister Sergei Lavrov said the Western strike on Syria's chemical weapons facilities had removed any moral obligation to wait on suuplying Assad with the air defense system.