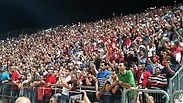 Bnei Sakhnin supporters
Photo: Mahssan Nasser
Israeli-Arab soccer club Bnei Sakhnin is mulling legal action against Prime Minister Benjamin Netanyahu over a Facebook post the premier wrote sharing a report that said the team's supporters did not respect a minute's silence for victims of the flash flood last week.

Prime Minister Netanyahu's post denounced Bnei Sakhnin supporters after it was reported that boos were heard during the team's game against Hapoel Ra'anana at the city's Doha Stadium.

Officials in the club's management said the premier never bothered looking up the facts of the alleged incident, considering it was not mentioned in the referee's report and that Ra'anana's owner and coach refuted the claims as well.

Moreover, an inquiry by Israel's Football Association turned up that some 250 schoolchildren failed to stand up for the minute's silence because the announcement for it was made in Hebrew, which they could not understand.

Talks team management held in the past 24 hours, including with the team's legal adviser, led to a decision to demand an apology from the prime minister. If Netanyahu refuses to apologize, the team has said it will consider legal action.

Bnei Sakhnin legal adviser Mohammad Abu Younes confirmed the matter to Ynet, saying, "We are looking into the matter thoroughly. People should apologize. For a prime minister to do that? He's not just a person off the street. We'll hold a meeting and decide, but it's my thinking—and recommendation—to pursue this all the way."

"That means demanding an apology from Bibi and other people involved in the case. If that doesn't happen, we'll see him in court," Abu Younes cautioned, using the prime minister's nickname.

The team's general manager Khaled Douki added, "After everyone's clear on the fact that no boos were heard, I expect the prime minister to apologize to the people and not incite over something that never happened."