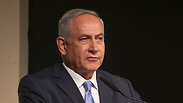 PM Netanyahu
Photo: Ohad Zwigenberg
Netanyahu faces deluge of criticism over false report
Sharing a news report about Arab Bnei Sakhnin supporters booing a minute's silence for victims of flood disaster, PM says their conduct a 'disgrace'; when report was debunked shortly thereafter, opposition MKs attacked Netanyahu for 'only busying himself with incitement.'
A post by Prime Minister Benjamin Netanyahu, in which he claimed that supporters of the Arab soccer team Bnei Sakhnin booed a minute's silence for the memory of the ten victims of the flash flood, raised ire Sunday evening, with opposition members claiming the premier was propagating a falsehood.

Netanyahu denounced supporters of the Arab-Israeli team, the only such team playing in Israel's Premier League, on the basis of a news report that said boos were heard from stands housing Bnei Sakhnin fans before a game against Hapoel Ra'anana.

"It's a disgrace," Prime Minister Netanyahu's post said. "I expect all public figures, Jewish and non-Jewish alike, to unequivocally denounce this reprehensible behavior."



Several hours later, however, claims were made that the report Netanyahu's post was based on was wrong, and that no boos were heard from Sakhnin fans.

The team itself claimed the only incident taking place was that a group of some 250 children aged 5-7 invited to the game failed to stand as the announcement of the minute's silence was made in Hebrew, which they could not understand.

The referee's report and television cameras also made no mention of any boos or disturbances during the memorial.

This led Arab MKs to strongly attack the premier, and compare the recent post with his assertion that "Arab voters are going to the polls in droves" on the day of the elections for the 20th Knesset three years ago—which Netanyahu later apologized for.

Joint List Chairman MK Ayman Odeh, for instance, tweeted, "Fake news, Netanyahu-style, as he has forgotten his position and acts like a garden variety thug. The prime minister is uninterested in facts. From 'droves of Arabs' to 'They did not stand at attention'—he is only interested in incitement. From this point, hate crimes are not far away."

Fellow Joint List lawmaker Ahmad Tibi, himself a Sakhnin supporter, wrote, "Never mind that the report was false and it's clear no one booed the minute's silence, and never mind that you never made a post when your friends in the eastern terrace (where hard-line supporters of Beitar Jerusalem sit—ed) shouted 'Mohammad is dead' and other gutter repertoire."

"Is that what you're busying yourself with? How much longer will you incite? We still remember the inciting post regarding the 'nationalistic rape' that never was. When will you apologize?" Tibi demanded.

Joining the chorus of voices against Netanyahu was Zionist Union Chairman Avi Gabbay, who said, "A prime minister who cares would have held a series of discussions to try and figure out what happened and what should be done to prevent the next disaster, or at least ask Education Minister Bennett what he did on the matter, which he didn't."

"Instead, Netanyahu is busy inciting with falsehoods against 20 percents of his citizenry," Gabbay accused.

Chairman of the Yesh Atid Knesset parliamentary group Ofer Shelah made his own comment on the matter, tweeting, "Someone spread a rumor that boos were heard at a Sakhnin soccer game during a minute's silence to the victims of the flood disaster."

"The Football Association, which examined the video, Ra'anana's coach and owner—all say it never happened. And who jumped in anyway to incite on the basis of an unfounded rumor? The prime minister, of course. Since when has the truth gotten in the way of Bibi's inciting and divisiveness?" Shelah said.

On the other side of the aisle, communications minister and Netanyahu confidant Ayoob Kara joined Netanyahu's denunciation of the Sakhnin supporters' conduct. "Booing the minute's silence for the victims," he maintained, "is disgraceful conduct that severely offends families and harms coexistence between Jews and Arabs in Israel."

"Sport must remain outside the boundaries of politics and the Football Association must intercede to turn sport stadiums into places of unity that sever hate," Kara added.

The Prime Minister's Office declined comment on the matter.