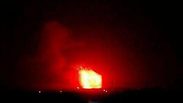 Sunday night's strike in Syria
Iran, Syria left in awkward situation as 'enemy' attackers unknown
Analysis: Sunday night's strikes against Assad army bases was likely part of a joint initiative launched from Syrian territory between Syrian rebels and other military forces armed with highly accurate missiles and rockets, making it difficult for Syria and Iran to hold Israel or the US accountable.
Who was behind Sunday night's attack on several Assad army bases in Syria? As the clouds of smoke dissipate from the areas struck by missiles, it seems quite likely that whoever attacked the bases used by Syrian and Iranian-backed forces may have been trying to send a message.

According to that message, which was directed at both the Syrian regime and the Russians, as long as the Iranians military presence in Syria continues, a political agreement will remain impossible and the seven-year civil war won't come to an end.

So far, there is no reliable information pointing to the identity of whoever struck in northern and central Syria on Sunday night. What we do know is that the missiles hit Syrian army camps and arms depots in two areas which are relatively far away from each other, some in the city of Aleppo and some near the city of Hama, which is located more than 100 kilometers south of Aleppo in central Syria.

We also know that some of the attacked bases—especially those near Hama, but also those in the Aleppo area—were used by Shiite militias sent by the Iranians to fight in Syria. Hezbollah has a presence in some of those bases as well. The rest are bases and arms depots belonging to the Syrian army.

Footage of one of the strikes

The Syrian army has been launching attacks from these bases, together with Shiite militia from Iraq and Pakistan and Hezbollah forces, against the main center of Syrian rebels in the Idlib district, which is located between the two Syrian army centers that were attacked. All groups opposing the regime operate from this district.

The Syrians have said recently that they plan to launch an attack near the city of Homs, southeast of Hama, to destroy the rebel centers there, just like they did in the eastern Ghouta area near Damascus.

We also know that the Syrian bases that were attacked Sunday night aren't far from an enclave which is mostly controlled by Kurdish forces, in northeast Syria, east of the Euphrates River. These forces operate under the guidance and direction of American advisors and carry out their orders. The enclave, which is about a quarter of Syrian territory, is basically under US military control. It borders the Al-Qa'im area in Iraq and the Syrian city of Qamishli on the border with Turkey.

Furthermore, the Americans have a large base in the Al-Tanf area in Syria, near with borders with Jordan and Iraq. From this base, the Americans conduct joint activities with their Kurdish allies as well as with other rebels towards the area of Palmyra, in a bid to prevent the Iranian-backed militias from taking over the area and creating a land corridor between Tehran and Damascus. Activities are launched from this area towards a different border crossing as well, between Iraq and Syria, near the city of Abu Kamal.

Like in two previous cases in the past month, according to Arab media reports, the bases were attacked with precision-guided surface-to-surface rockets and missiles armed with bunker-busting warheads. These kinds of missiles and rockets are used by the US Army and are produced by the Israeli military industries—Rafael, Israel Aerospace Industries and Israeli Military Industries.

One of these missiles, LORA (Long Range Attack), is a heavy missile with a range of more than 300 kilometers. Its warhead, which weighs hundreds of kilograms, is highly accurate. Another missile, called EXTRA (Extended Range Artillery), has a range of 150 kilometers.

Some of the Syrian reports claimed the missiles that hit Syrian targets on Sunday night were fired from Jordanian territory. This information is likely false, as Jordan is an Arab country that wouldn't risk a direct attack on the Syrian army from its territory for fear of retaliation. It's possible, however, that the missiles were launched from the Syrian territory in the Jordanian border area, by the rebels or by rebels cooperating with a different military force.

The conclusion, therefore, is that Sunday night's attack and two previous attacks carried out in the past month were likely joint initiatives by Syrian rebels and other military forces armed with highly accurate missiles and rockets, which are capable of infiltrating bunkers and underground arms depots. The partners in this new military initiative that we have been witnessing in recent weeks have an interest in harming both Syrian army forces (which is the rebels' goal) and the Iranian forces operating in Syria, including the Iranian-backed Shiite militias and Hezbollah.

Both Israel and the United States have an interest in targeting the Iranian forces or the Iranian-backed forces operating in Syria. These initiatives to attack Syrian army centers and Iranian-backed facilities and units on Syrian territory—from Syrian territory—make it easy to cover up the attackers' identity, leaving the Iranians and Syrians in an awkward situation.

The fact that the strikes are carried out by Syrian rebels from the Idlib district or from rebel-controlled enclaves in eastern Syria makes it impossible for the Iranians, Syrians and Russians to hold Israel or the US accountable.

We should also pay attention to the fact that shortly after the missile blasts rocked Syria on Sunday night, reports emerged that US President Donald Trump and Prime Minister Benjamin Netanyahu had discussed issues related to Iran. We may be witnessing a new military coalition operating against Iranian interests and in favor of the rebels on Syrian territory.

Lastly, based on the magnitude of the explosions, it is possible to assume one of the strikes' main targets was the heavy weapons systems the Iranians have been accumulating in northern Syria. These systems were stationed there under the assumption Israeli and American intelligence agencies would have a hard time finding and attacking them.

These systems apparently include ballistic missiles with heavy payloads and perhaps even cruise missiles in the Syrian army bunkers and the warehouse of the Syrian military industry, which is centered in the Aleppo area. Even from northern Syria, such missiles could still reach any point in Israel.

However, it appears these missiles were not put there for a particular retaliatory attack planned by Iran, but rather as part of a strategic plan ahead of a possible war.