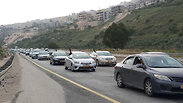 The convoy protested violence in the Arab sector
Israeli Arabs travel to Jerusalem to protest Arab sector violence
Arab on Arab crime far more than deadly than any other Israeli sector, leading nation with 2/3 of violent murders; in wake of recent spate of shootings, convoy of 100 vehicles travels from Umm al-Fahm to Jerusalem to protest government's inaction.
A convoy of over 100 vehicles made its way to the Government Quarter in Jerusalem on Sunday morning to protest violence in the Arab sector, which has claimed 15 victims since the beginning of 2018.

The protesters claim local authorities are powerless to stop the violence and demand that Prime Minister Benjamin Netanyahu intervene.

Israeli Arabs protest violence in sector

"Netanyahu promised Siham Agbariya (whose husband and two of her sons were murdered—ed) several years ago that he would make sure the issue is handled, but unfortunately he's not doing anything. It's all just empty promises. We want serious action and not empty promises," one protester said.

The convoy began by leaving Umm al-Fahm, traveled through Route 65 in the Wadi Ara area and then made its way to Highway 6, connecting to Highway 1 en route to the capital.

The participants were waving black flags. "We want to have our cry heard and for our suffering following the violence and murders that destroyed our society to be known," said one protester.

Halima Gara from Jatt, whose husband and son were murdered, told her family's story. "My son Al-Lateef was murdered in 2013, and 10 months later my husband Muhammad—who was on his way to visit our daughter—was also murdered. They were both murdered in cold blood. I haven't recovered since, my life has been destroyed," she said.

She went on to say that "the convoy is very important to all of us. We want everyone responsible to hear about our suffering. Every time I hear about a murder, I immediately start crying. It's very difficult for me. I can't remain silent anymore in face of acts of murder and violence."

MK Yousef Jabareen (Joint List), who joined the convoy, called the government's inaction "a grave and dangerous failure."

"It appears criminals have free rein as long as the victims are Arabs. I blame the police for not acting to eradicate the violence for reasons of 'Divide and conquer,'" Jabareen accused.

"Data shows that out of over 520 shootings in Umm al-Fahm, indictments have been filed in only six instances. That is a one percent rate," he lamented.

Jabareen's fellow Joint List lawmaker Jamal Zahalka also participated in the protest, and said he "blamed the police for the rampant crime, for not fighting it and for its helplessness."

"Every crime that goes unpunished is a green light for the next crime. The police know to fight crime and have succeeded in eradicating crime organizations and narrowing down criminal acts in the Jewish sector. However, Arab crime organizations are being overlooked by the police, which does too little to stop the wave of violence in Arab society."

Joint List's MK Said al-Harumi added, "Violence and crime are wildly spreading in Arab villages and towns. We protest today in front of the Prime Minister's Office and want our loud cry against this dangerous phenomenon and against the government's helplessness in treating it to be heard.

"We will continue using all the means at our disposal until violence and crime are eradicated from Arab communities."

Since 2018, 15 people from Arab communities have been killed. Some of the cases have not been solved yet.

In addition, during that time period people were wounded by gunshots, as well as incidents in which houses, vehicles and businesses were shot at.

The protest was organized by the High Follow-Up Committee for Arab Citizens of Israel with the help of the Umm al-Fahm municipality and other activists.