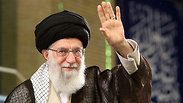 Ayatollah Ali Khamenei
Photo: AFP
Iran's Supreme Leader Khamenei: Trump speech 'silly and superficial'
In the wake of the US pullout from the nuclear deal with the Islamic Republic, Ayatollah Ali Khamenei says Trump 'had maybe more than 10 lies in his comments' about Tehran's nuclear program; 'Mr. Trump I tell you on behalf of the Iranian people: You've made a mistake,' he adds.
Iran's Supreme Leader on Wednesday called US President Donald Trump's comments on withdrawing from the 2015 nuclear agreement "silly and superficial," said he did not trust the European countries that were sticking with the agreement, and cast doubt on the future of the deal.

"You heard last night that the president of America made some silly and superficial comments," said Supreme Leader Ayatollah Ali Khamenei. "He had maybe more than 10 lies in his comments. He threatened the regime and the people, saying I'll do this and that. Mr. Trump I tell you on behalf of the Iranian people: You've made a mistake."

"You cannot do a damn thing!" Khamenei added during a meeting with a group of school teachers in Tehran. "This man will turn to dust and his body will become food for snakes and ants, and the Islamic Republic will still be standing."

The comments came on Ayatollah Ali Khamenei's official website, where Khamenei reiterated his distaste for the agreement.

"I said many times from the first day: don't trust America," Khamenei said. And he added, "I don't trust these three countries," Britain, France and Germany.

All three are parties to the agreement and were trying after Trump's withdrawal to salvage the deal. But Khamenei sounded dubious about their efforts.

"If you can't get a definite guarantee, then the nuclear deal can not be continued," he said.

Raising the issue of Iran's nuclear program was an excuse to curb the Islamic Republic's regional influence and missile program, Khamenei said. Accepting negotiations on its missiles and regional influence would mean Iran had to make endless concessions, he said.

"We accepted the nuclear deal, but the enmity against the Islamic Republic did not end," Khamenei said.

Iran needs to preserve its nuclear programme because the country will need 20,000 megawatts of electricity in the next few years, he said.

Khamenei, the highest authority in Iran, reluctantly gave his backing for the Iran nuclear deal and has publicly criticized the US multiple times for not following through on its promises under the agreement.

Earlier Wednesday, Iranian lawmakers, including a Shiite cleric, held a flaming US flag alight as their colleagues joined chants of "Death to America." They also burned a piece of paper representing the nuclear deal and stomped on the papers' ashes.

The 2015 agreement imposed restrictions on Iran's nuclear program in return for the lifting of most US and international sanctions.

However, the deal came with time limits and did not address Iran's ballistic missile program or its regional policies in Syria and elsewhere. Trump has repeatedly pointed to those omissions in referring to the accord as the "worst deal ever." Proponents of the deal have said those time limits were meant to encourage more discussion with Iran in the future that could eventually address other concerns.

Late Tuesday night, President Hassan Rouhani said he'd be sending Iranian Foreign Minister Mohammad Javad Zarif to the countries still in the deal—China, France, Germany, Russia and the United Kingdom.

Iran hopes the European Union will pass laws to protect European firms from any potential US sanctions. EU officials have suggested they'll do what they can to salvage the agreement.

Still, Rouhani made a point of stressing that Iran, at any time, could resume its nuclear program.

"So if necessary, we can begin our industrial enrichment without any limitations," the Iranian leader said. "Until implementation of this decision, we will wait for some weeks and will talk with our friends and allies and other signatories of the nuclear deal, who signed it and who will remain loyal to it. Everything depends on our national interests."