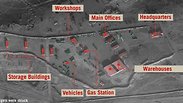 Iranian military installations in Syria attacked by Israel
Photo: IDF Spokesperson's Unit
The IDF on Friday released aerial footage of the Iranian sites that were targeted in Thursday's retaliatory air strike in Syria, highlighting and identifying the specific targets attacked by the IAF.

As part of Israel's most extensive attack in Syria since the 1974 Yom Kippur War, the IAF bombarded military installations at Tel Gharba, Tel Kleb, Nabi Yusha and Tel Maqdad, as well as a military compound of the Iranian Quds Force in al-Kisweh, according to the Israel Defense Forces spokesperson's unit.

The footage published by the army includes overhead images of storage facilities and garages used by Iranian forces during their operations in Syria.

Another picture showed an Iranian logistics compound situated in an unspecified location near Damascus that was also targeted in the overnight attack, though noted that not all of the structures identified in it were hit.



Among the targets attacked by Israel were also pro-Iranian militias close to the border fence between Israel and Syria in the Golan, such as observation posts and aerial defense systems.

The attack, which the air named "Operation House of Cards," lasted an hour and a half, during which over 50 Iranian targets were bombed.

Thursday's heavy barrage was prompted by a rocket attack on Israeli army bases in the Golan Heights, launched by Iranian forces in Syria.

IDF Spokesperson Brigadier-General Ronen Manelis said Thursday morning that none of the 20 rockets fired by the Iranian Revolutionary Guards' Quds Force hit Israeli territory. Four of the rockets, he said, were intercepted by the Iron Dome air defense system and the rest landed on Syrian territory.

Iran vowed retaliation after a suspected Israeli air strike last month killed seven of its military personnel in a Syrian air base.

The attack on the Golan Heights, just past midnight, marked the first time Iranian forces have attacked Israel from Syria, where they have deployed along with Iran-backed Shiite militias and Russian troops to support President Bashar Assad in the seven-year-old civil war.