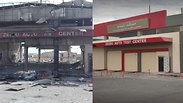 The IDF has taken responsibility Friday for the missile strike on the bases in the Hama and Aleppo countryside, in which some 25 people were killed, most of them Iranians, and 35 others were injured.

The attack targeted Iranian-made air defense systems that were transferred to Syria with the intention of being used against Israel.


The IAF has intermittently attacked Iranian weapons shipments in Syria in the past, stressing it will not allow Iran to arm militias and terror organizations such as Hezbollah. These air defense systems could have hampered Israel's ability to continue to carry out such preemptive strikes.

The decision to destroy these systems, the IDF noted, was made after a series of discussions in the top security and political echelon.

The IDF added it was aware of the presence of Iranian officers in the vicinity of these systems, and although there was no intention to harm them, it was decided to carry out the operation anyway, accepting the collateral damage and chance for military escalation to eliminate these systems.

This statement confirms the one made earlier this month by US officials.

Government sources said that Israel appeared to be preparing for war with Iran. They noted that even though Israel had not requested permission from the United States for further actions, "some cautionary notes were sent." According to them, Israel has returned to a campaign of deliberate air strikes.

A day before, the New York Times reported that 200 missiles had been destroyed in the missile strike.

According to NBC, in recent weeks, Iran has increased military shipments to Syria.

The supplies included ground-to-air missiles, which, according to two US officials, were meant to strengthen Iran's forces in Syria in preparation for an attack on Israel.

According to Syrian state television, Israel's missile attacks took place at 10:30 pm. Al Akhbar reported the targets of the strike were Syrian army bases being used by Iran's Revolutionary Guard Corps.

The explosions were registered as a 2.6 magnitude earthquake by the European Mediterranean Seismological Center.