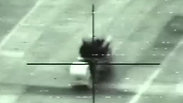 IAF attacks Syrian SA22 battery
Photo: IDF Spokesperson's Unit
Both the European Union and the United Kingdom expressed support Thursday for Israel's right to defend itself in the wake of the Iranian rocket attack on the Golan Heights and the IAF's retaliatory operation, which saw over 50 Iranian targets in Syria hit.

"Reports about last night's Iranian attacks against Israeli army posts from inside Syria to which Israel responded by striking against Iranian targets in Syria are extremely worrying," a statement Thursday from the office of the EU's foreign policy chief Federica Mogherini said.

"As the EU has said repeatedly, Israel has the right to defend itself," the statement went on to say, adding however that "At the same time, we call on all regional actors to show restraint and avoid any escalation, which could further undermine regional stability."

British Prime Minister Theresa May called Prime Minister Benjamin Netanyahu on Thursday evening to offer her country's support to Israel.

May "condemned the Iranian rocket attacks against Israeli forces, and said we strongly support Israel's right to defend itself against Iranian aggression," according to a statement from Downing Street.

She called on Iran "to refrain from any further attacks, and for calm on all sides."

According to the British premier's office, May and Netanyahu "agreed it was vital for the international community to continue working together to counter Iran's destabilizing regional activity, and for Russia to use its influence in Syria to prevent further Iranian attacks."

In a statement issued by his own office, Netanyahu "expressed his appreciation for Britain's condemnation of the Iranian missile fire and its support for Israel's right to defend itself."

Britain condemned the Iranian attack on Israel even earlier, with Foreign Secretary Boris Johnson urging Iran "to refrain from further actions which will only lead to increased instability in the region. It is crucial to avoid any further escalations, which would be in no one's interest."

"We also continue to call on Russia to use its influence to press those in Syria to cease their destabilizing activity and work towards a broader political settlement," Johnson's statement went on to say.

Earlier Thursday, the White House condemned Iran's "provocative rocket attacks from Syria against Israeli citizens," adding that "Iran's Islamic Revolutionary Guard Corps (IRGC) bears full responsibility for the consequences of its reckless actions, and we call on the IRGC and its militant proxies, including Hezbollah, to take no further provocative steps."

"The Iranian regime's deployment into Syria of offensive rocket and missile systems aimed at Israel is an unacceptable and highly dangerous development for the entire Middle East," the US administration added. "The United States also calls on all nations to make clear that the Iranian regime's actions pose a severe threat to international peace and stability."

Russia, meanwhile, called the Israeli retaliation against Iran a dangerous escalation and urged both Israel and Iran to avoid provoking each other.

Russian Foreign Minister Sergey Lavrov said Moscow sees Thursday's strikes as a "very alarming development."

He noted that in contacts with the leadership of both countries, including a meeting Wednesday between Netanyahu and Russian President Vladimir Putin in Moscow, "we underlined the necessity of avoiding any actions that might be mutually provocative."

The Associated Press contributed to this story.