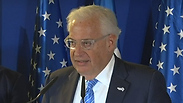 US Ambassador to Israel David Friedman
Photo: Gal Arbel
Friedman: Embassy move to Jerusalem will help stability in region
US Ambassador to Israel David Friedman says embassy staff working around the clock to get embassy ready ahead of inauguration on Monday; 'We're convinced this decision creates an opportunity to continue the peace process based on reality and not based on fantasies,' he says, rejecting criticism.
US Ambassador to Israel David Friedman said Friday American diplomats are excited about the opening of the US Embassy in Jerusalem next week.

"We're all happy and excited to participate in this historic event," Friedman said, speaking after one last toast at the Tel Aviv Embassy.

"The embassy staff is working around the clock to get ready" for the inauguration ceremony on Monday, he added. "We're anticipating a beautiful, moving, inspirational event."

Preparations for opening of US Embassy in Jerusalem (שגרירות ארה"ב)

"We're proud that we've been able to make it possible to open the embassy ahead of schedule and at a lower budget than expect," Friedman noted.

While US President Donald Trump will not be attending the opening ceremony, he will film a video message for attendees.

Roughly 800 guests will attend the ceremony, including a delegation from Washington. Trump will be represented by his daughter Ivanka and her husband Jared Kusher.

The embassy opening ceremony will be attended by an American delegation led by Secretary of the Treasury Steven Mnuchin. It will also include Deputy Secretary of State John Sullivan, Trump's envoy to the Middle East Jason Greenblatt, American Ambassador David Friedman, Florida Governor Rick Scott, and Senator Lindsey Graham.

They will be joined by a delegation of eight Congressmen, headed by Rep. Joe Wilson, and a large delegation of American Jewish community leaders, Christian community leaders, former US ambassadors to Israel, and others.

"Not only did we have the vision and courage to recognize Jerusalem as the capital of Israel, we also had the courage to open the embassy within 4.5-5 months from the moment the president declared the transfer of the embassy to Jerusalem," Friedman said.

He went on to explain he will be splitting his time between Jerusalem and Tel Aviv, and that the transfer of the embassy's different departments to the capital will be done as soon as possible.

The embassy is opening in part of a pre-existing American visa-and-passport facility with a fraction of the total US personnel in Israel.

Initial embassy staff will be made up of some 50 people, including Friedman and his aides, as well as US consular officers already working at the site.

The embassy opening is expected to further increase tensions in Jerusalem in particular and in the region in general.

The Americans have been working closely with Israel's security forces, including the Shin Bet and the Israel Police, to secure the capital ahead of and during the event.

"There are people who are happy about this decision and some who aren't happy. It's too early to measure response," Friedman said. "Long-term, we're convinced this decision creates an opportunity to continue the peace process based on reality and not based on fantasies. We're very optimistic and believe the decision will create greater stability."

Foreign ambassadors weren't invited to the embassy opening ceremony - unlike the reception held a day earlier at Israel's Foreign Ministry - to avoid a situation in which ambassadors may decline the invitation.

"Sometimes we have healthy differences of opinion with our allies, but this decision hasn't created any isolation," a US government official said.

Victoria Coates, a senior director for international negotiations at the US National Security Council, said Friday that Bahrain's statement in support of Israel's right to defend itself against Iran proves Israel is not isolated in the region.

"This is a very important statement, which highlights the intolerable aggression of Iran, and this is something the president addressed when announcing the decision to withdraw from the nuclear agreement," Coates said.

"It's important for Gulf nations to recognize Israel as a country that has a right to defend itself against a country like Iran. I think this is a change that has been taking place for years, but to come out with this three days before the embassy move - this proves that what the president is doing is the right thing, and that his leadership brings elements in this region closer to each other," she added.

Separately, Germany has advised its citizens to stay away from Jerusalem's Old Town this weekend, citing the possibility of violence surrounding the opening of the Embassy on May 14.

The Associated Press and Reuters contributed to this story.