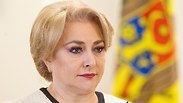 Romanian PM faces possible dismissal over Jerusalem embassy move
PM Dăncilă gets into hot water over her Israel visit, planned embassy move, with the head of opposition filing a complaint against her; President Iohannis, her chief political opponent, will be able to dismiss her from office if an investigation is opened; PA recalls Bucharest envoy over country's embassy move, pro-Israeli stance.
A political crisis in Romania is intensifying surrounding the local government's decision to move forward on transferring its embassy to Jerusalem, with the head of the country's opposition filing a criminal complaint against Prime Minister Viorica Dăncilă over her visit to Israel and alleged concealment of information from President Klaus Iohannis.

Opposition head and chairman of the National Liberal Party Ludovic Orban filed the complaint against Dăncilă at a special tribunal, Romanian media reported, also charging the premier with treason.

The prime minister's office fears the complaint may lead to the opening of an investigation, which may cripple Prime Minister Dăncilă's status and power, as she is not a member of parliament and is therefore not afforded immunity.

Orban's complaint maintained Dăncilă harmed the Romanian constitution by approving an order stating moves will be put in motion to transfer the country's embassy to Jerusalem, echoing a similar move by the United States and Guatemala earlier this week.
'Attempt to carry out a putsch against an elected government'
According the Romanian constitution, if an investigation is opened against a prime minister, President Iohannis—who has been humiliated in a political standoff over the past few weeks with Dăncilă and pro-Israeli parliament speaker Liviu Dragnea—will be able to dismiss her.

Parliament Speaker Dragnea lashed out at the complaint against the premier, accusing Iohannis of an attempt to perpetrate a putsch against an elected government.

Israel's Opposition Chairman MK Isaac Herzog, meanwhile, voiced his disbelief that a visit to Jerusalem or considering moving an embassy could be construed to be a criminal offense.

"Our relations with Romania are of paramount importance, and all of the country's leaders have visited Israel in the past few years, from the president downwards," Herzog noted. "Thinking that's an offense is therefore clearly an insult."

"Jerusalem is the capital of Israel, period. US President Donald Trump himself made clear the the boundaries of Israeli sovereignty will be decided in negotiations. Anyone considering a debate around moving the embassy to be treason also spits in the US's face," he maintained.

Iohannis had initially charged that Dăncilă's visit, which lasted two days, was shrouded in "absurd secrecy." The Romanian president added that the premier did not inform him of her journey, and alleged that her decision lacked any "concrete grounds."

According to the country's division of power, the president presides over foreign visitations, with each such visit by the prime minister necessitating his approval.

Dăncilă was sworn in as leader of the Central European country this past January. In the short intervening period, she had already succeeded in raising a public outcry after deeming her political opponents "autistic."

A Romanian state body, the National Council for Combating Discrimination, determined she had committed no offense by so doing, however.

Before being appointed prime minister, Dăncilă was a member of the European Parliament, and in an interview she gave after acceding to the position she attacked certain members of the multinational body for criticizing her country.

On a related matter, the Palestinian Authority's envoy to Bucharest was "recalled for consultations" in Ramallah, it was reported Thursday, over the government's intention to transfer its embassy to Jerusalem and Romania's general pro-Israeli stance.