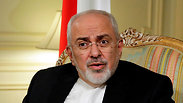 Iranian Foreign Minister Zarif
Photo: AP
Iranian Foreign Minister Mohammad Javad Zarif, considered a moderate by many, was caught on tape Thursday joining a crowd in a chant calling for the destruction of Iran's enemies—among them the US, UK and Israel.

The chant broke out after a speech delivered by Iran's Supreme Leader Ayatollah Ali Khamenei held in Tehran.

The crowd is then heard chanting "Death to America", "Death to Britain" and "Death to Israel," all while Zarif is seen smiling and mouthing the words shouted by the participants.

Iranian Foreign Minister Zarif chants 'death to US, UK, Israel'

Among the participants in the event were Iran's Atomic Energy Commission, former Foreign Minister Ali Akbar Salehi and Iran's Chief of Staff General Mohammed Hussein Bakri.

Zarif left last week for a trip to Asia and Europe as part of efforts to maintain the nuclear agreement after the US withdrew from it.

In the days before President Trump's decision to withdraw from the deal, Zarif attacked the United States and Israel, threatening I ran is ready to resume its nuclear activities "at a much greater speed" should the US decides to pull out of the 2015 international agreement aimed at preventing Tehran from obtaining a nuclear weapon.

On Wednesday, Khamenei set out seven conditions for Tehran to stay in its nuclear deal with world powers, including steps by European banks to safeguard trade with Tehran.

Khamenei's official website said that he also stipulated European powers must protect Iranian oil sales from US pressure and continue buying Iranian crude, and must promise they would not seek new negotiations on Iran's ballistic missile program and regional Middle East activities.

"European banks should safeguard trade with the Islamic Republic. We do not want to start a fight with these three countries (France, Germany and Britain) but we don't trust them either," Khamenei said. "Europe should fully guarantee Iran's oil sales. In case Americans can damage our oil sales..., Europeans should make up for that and buy Iranian oil."

This came after US Secretary of State Mike Pompeo on Monday demanded Iran to make sweeping changes that would force it to effectively reverse the recent spread of its military and political influence through the Middle East to the shores of the Mediterranean Sea.

If Washington sees tangible shifts in Iran's policies, it is prepared to lift sanctions, Pompeo stressed, but added that "the sting of sanctions will only grow more painful if the regime does not change course from the unacceptable and unproductive path it has chosen for itself and the people of Iran."