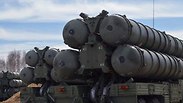 The S-500 system
Photo: AP
Russia holds longest ever surface-to-air missile launch
Moscow reportedly covertly launches successful test with missile from new S-500 aerial defense system intercepting target 480 kilometers away—improving on previous record by 80 kilometers; system will be capable of intercepting missiles, drones and even stealth fighters such as the F-35, confirmed to have been used by Israel in one of its strikes.
While Russia boasted of the simultaneous launch of four intercontinental ballistic missiles (ICBMs) from a submarine Tuesday, it came to light Friday it also covertly experimented with the longest ever launch of a surface-to-air missile, CNBC reported.

The missile, part of the new Russian S-500 system, hit its mark at a distance of 480 kilometers—80 kilometers more than the previous record.

Footage from the launch of 4 ICBMs earlier this week

The state-of-the-art S-500 aerial defense system was capable of intercepting hypersonic missiles—traveling at a speed greater than the speed of sound—as well as drones and aircrafts, Russia maintained.



Moreover, the new system was capable of intercepting the F-22 and F-35 stealth planes, the latter of which was revealed this week by Israel Air Force Commander Amikam Norkin to have been used in an attack by Israel for the first time in the world.

The new system is thus set to improve Moscow's capabilities of engaging a variety of targets using precision strikes. The system was even capable of destroying objects traveling near space, at an altitude of more than 90 kilometers above the ground, Russia claimed.

American intelligence officials, meanwhile, said that the test made use of an upgraded version of the missile used in the S-300 system, which Russia was said to be mulling providing to its ally in Syria—the regime of President Bashar Assad.

Report of the S-500 came to light Friday, 24 hours after another development was made public regarding Russian surface-to-air missiles with The Netherlands publishing the conclusions of its inquiry into the crash of Malaysia Airlines' Flight 17 over eastern Ukraine four years ago, determining that it was intercepted by Russian surface-to-air missiles.

The medium-range Buk system of surface-to-air missiles was reportedly used to down the plane, on a flight from Amsterdam to Kuala Lumpur in which 298 people were killed.

Dutch Foreign Affairs Minister Stef Blok added Friday that the investigation's findings "pointed to direct Russian involvement." Moscow nevertheless denied any culpability, with the Russian Defense Ministry saying Thursday that none of its surface-to-air missile systems crossed the border into The Ukraine.

American intelligence officials reported last week that by 2020, Russia will be able to arm its ballistic missiles with a hypersonic glide cruise missile called Avangard—capable of carrying a nuclear payload—which Russian statements said no country could defend against.

Several months ago, head of the Main Operations Department at Russia's General Staff Lt.-Gen. Sergei Rudskoi announced that his country will indeed supply the S-300 long-range interception system to Syria.

The S-300 is considered more efficient and advanced than any antiaircraft system currently in Syrian hands, as it's capable of intercepting not only planes but also ballistic and possibly even cruise missiles at ranges of more than 150 kilometer and at high altitudes.