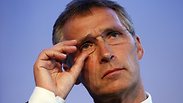 Jens Stoltenberg
Photo: Reuters
NATO's secretary-general said Saturday the alliance wouldn't come to Israel's defense in case of attack by arch enemy Iran.

Jens Stoltenberg told the magazine Der Spiegel that Israel is a partner, but not a member and that NATO's "security guarantee" doesn't apply to Israel.

Stoltenberg noted NATO isn't involved in Mideast peace efforts or in conflicts in the region.

Stoltenberg's comments in the wake of recent clashes between Israel and Iran in the Golan Heights, and amid Israeli efforts to remove the Iranians and their Shiite allies, including Hezbollah, from the Israel-Syria border area.

Israel and Russia have reportedly reached an agreement that would see the withdrawal of Iranian and Hezbollah forces from the Golan, while troops loyal to Syrian President Bashar Assad will take over the area.

According to a report in the London-based Asharq Al-Awsat newspaper, the Iranian and Hezbollah forces will initially pull back its forces to within 20 kilometers of the border, and later to a range of 60 to 70 kilometers, with Russia underlining the fact that this was a gradual process.

Russian President Vladimir Putin reportedly wanted Israel to allow Assad's army to move southwards to the Jordanian border and secure all of the Syrian Golan Heights.

In return, the Russian president is willing to promise Israel that Iran's Revolutionary Guards Corps and Iran-affiliated militias will not be present in the territories Assad's army takes.

The Britain-based Syrian Observatory for Human Rights, a war monitor, reported on Thursday that Iranian troops and members of Lebanon's Iran-backed Hezbollah group are getting ready to withdraw from southern Syria.

A Syria-based official with the Iran-led axis of resistance denied the report.

Assad himself has rebuffed claims of an Iranian military presence in his country, while accusing Israel of launching attacks on his territory and of propagating "lies" about its massive aerial offensive launched earlier in May.

The embattled Syrian president told Russia Today that Iran's presence in his country was limited to officers who were assisting the Syrian army. Apparently referring to the May 10 attack by Israel, Assad said "we had tens of Syrian martyrs and wounded soldiers, not a single Iranian" casualty.