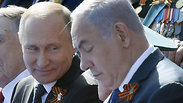 Russian President Putin (L) and PM Netanyahu
Photo: AFP
Israel's negotiations with Russia on Syria not yet concluded
Analysis: Russia has iterated support for Israel's demand to remove Iranian forces from Syria, but is looking to the future—whereas Israel wants it to happen now; Assad's army, meanwhile, wants free rein in overtaking southwest Syria, but Israel, Jordan and US have not yet assented due to a variety of concerns.
Talks between Israel and Russia—including Defense Minister Avigdor Lieberman's Moscow trip this week to meet his Russian counterpart Sergey Shoygu—now deal with two separate, yet interlinked topics.

The first is Russia's aspiration to allow President Bashar Assad's army to confront rebel groups in southwestern Syria and overtake land all the way up to the Israeli border in the Golan Heights, and the Syrian-Jordanian border. The second is Iran's strategic entrenchment in Syria, not merely limited to the Golan but throughout the territory of Israel's neighbor.

Defense Minister Lieberman's meeting with his Russian counterpart (צילום: שחר לוי, משרד הביטחון)

Southwestern Syria is of paramount importance to Assad and his regime, and he strongly wishes to regain control of it as part of his overall campaign to retake his country from the various rebel groups warring against him. Russian President Vladimir Putin is determined to help him in that regard.

Putin also wants Israel to stay out of Assad's way when his army makes its way south up to the border with Jordan to overtake the entirety of the Syrian Golan Heights. In return, the Russian president is willing to promise Israel that Iran's Revolutionary Guards Corps and Iran-affiliated militias will not be present in the territories Assad's army takes.

What the Russians are suggesting is to pull back forces loyal to Iran—including Hezbollah—to a distance of 60-70 kilometers east of the ceasefire line in the Israeli Golan. In any event, they will certainly not be present beyond the road connecting Damascus and as-Suwayda, the capital of the Druze governorate of Syria, and the Jordanian border.

The first issue, having to do with Assad retaking southwestern Syria, is being handled by Russian Defense Minister Shoygu opposite Lieberman, and served as the reason the Israeli minister was invited to Moscow Thursday. The second matter, which is more strategic in nature, is being handled by Prime Minister Benjamin Netanyahu directly with Putin.

That is precisely the reason why despite that fact that Lieberman was physically in Moscow at the time, Prime Minister Netanyahu telephoned Putin separately to supply him with new information Israel had obtained regarding Iranian entrenchment.

Netanyahu also primarily phoned the Russian leader to make it clear to him that even if Israel consented to localized regulation regarding southwestern Syria, it will not accept Iran and loyalist militias remaining on Syrian land even if they never cross the Damascus-as-Suwayda road west towards the Golan ceasefire line.

In this context, it would be prudent to note that an agreement with Jordan, the United States and Russia had already been reached last summer regarding southwest Syria, which deemed the environs south of Damascus and up to the Syrian-Jordanian border as "conflict-reduced zones."

Russia, for its part, is attempting to broker a gradual calming of the years' long Syrian civil war by using such conflict-reduced zones, with the end goal being to eventually reach a complete cessation of hostilities in the aforementioned region first, then in others, until all of Syria is covered.

The US—which looked after Jordan's interests during the talks—and the Hashemite kingdom itself agreed to create an area in the region north of the Jordanian border in which rebels tied to both countries will not provoke Syrian forces stationed nearby.

Israel was unrepresented in last summer's talks. The Americans, who were supposed to look after Israel's interests in its stead, mostly thought about Jordan, which is under a constant fear of the growing number of Syrian refugees flocking to its territory and throwing the demographic balance out of equilibrium.

The two countries therefore pressured the Syrian rebel groups they support—which have effective control over the region of the Syria-Jordan border—to accept Russia's demands.

The two most important groups in said region are Jabhat Fateh al-Sham—formerly al-Nusra Front, in actuality the Syrian offshoot of al-Qaeda—and the Free Syrian Army, a secular umbrella group comprised mostly of Sunni defectors from the Syrian army and local villagers.

The US did not really represent Israel's claims in last year's talks, hence the reason fighting near the Israeli border continued with some "trickling" of Syrian army as well as rebel fire towards Israel proper. Attempts were also made to strike at Israel from Syria's territory.

The Syrian army announced recently it was moving south with its 4th and 5th armored divisions and additional forces to win back the city of Daraa and its environs, currently controlled by rebels, as well as the region of the Syrian Golan bordering Israel.

The Syrian army's purpose in so doing, as per Russian sources, is to overtake three areas. The first is the Jordanian-Syrian Nasib border crossing southeast of Daraa and the second is Tel al-Harra, which overlooks the Israeli Golan and the armistice line—merely 12 kilometers east of the Israeli border.

Until the latter location was taken two years ago by rebels, it housed an Iranian intelligence outpost that collected signal intelligence from both observations and wiretaps, not just from Syrian rebels but also—and mostly—from Israel.

The third point is the town of Busra al-Harir, 30 kilometers northeast of Daraa.

These three strategic points will effectively allow the Syrian army to control the entire region, over which it currently only has partial control. Rebels number some 35,000 strong in the area, include Islamic State combatants present in the tri-border area of Syria, Israel and Jordan.

The Syrian regime, with Russian support, is therefore attempting to isolate the Syrian rebels encamped in the Lajat region, with as-Suwayda in its center, and put some daylight between them and the Jordanian border, through which they receive US aid.

Russia plans to introduce Russian military policemen to the region once it's taken by the Syrian army, who will then disarm the rebels of their heavy weapons. This ambitious Russian scheme has met with resistance from both Israel and Jordan.

The Russians have asked Israel to not prevent the Syrian army from going down into the region, and to refrain from retaliating if errant regime fire trickles from Syria so as not to sabotage its war effort. Israel was also asked to not target Russian advisers embedded with the Syrian forces.

Israel is leaning towards acceding to the request, but seeks guarantees that Iranian forces and militias loyal to the Islamic republic will not join the Syrian 5th Armored Division, for instance, to which an Iranian-sponsored unit has been attached. There is also the Palestinian Liwa al-Quds brigade, which is purportedly loyal to Iran as well.

The presence of this unit in the force heading south to the vicinity of the Israeli border is completely unacceptable to Israel, which has iterated as much to Russia openly. This puts Russia in a bind, as Assad's army alone apparently cannot tackle the rebel forces without backing from Iranian militias, whose men are fighting on the ground.

The Russians, for their part, are willing to promise that once the army overtakes southwestern Syria, Iran and its proxies will depart and fall back east, beyond the Suwayda-Damascus road.

A further demand presented by Israel is for Iran and its proxies to not be present anywhere south of Damascus and on the outskirts of the Syrian capital, and not just east of the Suwayda-Damascus road.

Another point that has yet to be finalized is what Jordan and the US might say if Assad's army progresses south towards the Jordan-Syria border, which may well lead to a deluge of refugees from local Syrian villages escaping to Jordan.

King Abdullah, who is having a hard enough time feeding the existing refugees in camps strewn across northern Jordan, is patently unwilling to allow another such wave to hit his kingdom—and he has been afforded support from the US on the matter.

As things stand, then, an agreement has not yet been reached—neither with Israel nor apparently with Jordan or the US—to allow Assad's army free rein to take back control of southwestern Syria.

Russia is nevertheless exerting pressure where it can, and has iterated that in principle, it supports Israel's demand to remove foreign forces from Syria—they themselves excluded, naturally. When the Russians voice this support, however, they are referring to the future, after a political settlement of the Syrian conflict has been reached.

Israel, for its part, is demanding the withdrawal of foreign forces happen now, rather than later—in a year or more. Negotiations between Israel and Russia, therefore—both on southwest Syria and on the strategic matter of preventing Iranian entrenchment in the country—are still ongoing.