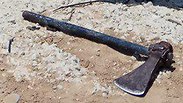 Ax found on the terrorists
Photo: IDF Spokesperson's Unit
IDF shoots dead armed terrorist attempting Gaza border breach
Second terrorist wounded by Golani soldiers but flees back into strip after attempting to cross into Israeli territory armed with an ax; IDF scouring area for possible explosive device planted on border; Palestinians publish video of 3 Gazans setting fire to IDF post used by snipers.
IDF soldiers killed one of two armed terrorists Monday as they attempted to cross the border from the Gaza Strip into Israel.

The terrorists, who were carrying an ax, damaged the security fence in what was the latest in a wave attempt by Palestinians in Gaza to infiltrate into Israeli territory.

Soldiers from the 51st Battalion of the Golani Brigade arrived at the scene and opened fire, killing one and wounding the other, who retreated back into Gaza.

The IDF is currently scouring the area to determine whether the two planted an explosive device on the border.

In addition, Palestinians published a video showing damage being caused to the border fence and the setting alight of an IDF post.

Video published by Palestinians of border crossing

In the short clip, which is accompanied by dramatic music, three Palestinians can been seen cutting through the barbed wire using wire cutters and then the fence itself before reaching an IDF post in Khan Younis in southern Gaza and setting it ablaze. Plumes of smoke can be seen rising from the post used by IDF snipers as the three Palestinians run back to the strip.

According to the Palestinians, the footage was filmed in retaliation for the of killing of a Palestinian nurse, 21-year-old Razan Ashraf Najjar, on Friday during protests along the Gaza border.

The IDF said on Saturday it was investigating the apparent killing which was attributed to its troops.

On Sunday evening, Palestinian terrorists from Gaza Strip cut through the border fence and infiltrated southern Israel, before setting ablaze a container containing equipment used for the construction of an anti-tunnel barrier along the border.

The group returned to the strip after lighting the fire. Nobody was injured but damage was caused to security infrastructure.

A week and a half ago, a similar incident took place as terrorists infiltrated from Gaza into Israel and set fire to an unmanned IDF post. No injuries were caused and in response the IDF fired tank shells at Hamas military posts in the area.