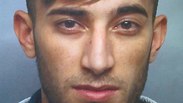 Iraqi suspect in murder of German Jewish teen detained
Ali Bashar, who had been living in Germany since 2015, fled back to Iraq, where he was detained by Kurdish authorities; Bashar is suspected of raping and murdering 14-year-old Susanna Feldman; police say no evidence the fact she was Jewish played factor in crime.
BERLIN - Kurdish authorities in northern Iraq detained a 20-year-old Iraqi man on Friday on suspicion of raping and murdering a 14-year-old Jewish girl in Germany, German Interior Minister Horst Seehofer said.

Seehofer told reporters the Kurdish security forces had taken him into custody early on Friday at the request of the German police, who identified him as Ali Bashar. He had been living in Germany as a refugee since 2015, German media said.

The case has galvanized Germany at a time when its decision to take in large numbers of migrants and asylum seekers during Europe's 2015 migrant crisis is already stirring a political backlash. Many politicians are calling for new rules to make it easier to deport immigrants thought to be violent.



The victim, Susanna Feldman, was Jewish, although police said there was no evidence her religion had been a factor in the crime, and the Central Council of Jews in Germany cautioned against attributing any anti-Semitic motive to her attacker.

"I am pleased to announce a successful manhunt in the case of Susanna F.," Seehofer told reporters after a meeting with state interior ministers.

The teenager, from the city of Mainz near Frankfurt, was reported missing on May 22. She was found dead on Wednesday in a wooded area near train tracks in Wiesbaden on the opposite bank of the Rhine, near a refugee center where the suspected attacker had lived, police said. An autopsy showed she had been the victim of a sexual and violent attack.

Police told reporters on Thursday that Bashar had likely fled with his family to Erbil, Iraq, several days ago. They said they had set up a special call center for tips from the public, and had issued releases in Arabic and Turkish.

The Iraqi suspect was already under investigation for a suspected robbery. He was appealing a December 2016 decision by German authorities to reject his asylum application.

Germany does not have a general extradition agreement with Iraq but must negotiate such moves on an individual basis, said foreign ministry spokeswoman Maria Adebahr. She declined to comment on the specific case of Bashar.