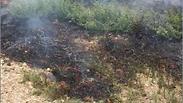 Fire breaks out in Nir Am
3 hurt in IAF attack on incendiary balloons cell east of Gaza City
Earlier strike targets car used by incendiary balloons cell in southern Gaza; strikes comes after 16 fires broke out in Israeli communities near the strip's border throughout the day; firefighters were able to contain all of the blazes.
Three Palestinians were reported wounded, one of them critically, in an IAF attack on a cell launching incendiary balloons east of Gaza City on Sunday afternoon.

In an earlier strike, the IAF targeted a vehicle used by balloon launchers in the southern part of the strip, but there were no reports of injuries.

The strikes were in response to 16 fires that broke out in Israel during the day Sunday because of the incendiary balloons. Firefighting forces were able to contain all of the fires.

On Saturday, an IAF aircraft fired warning shots at a cell attempting to dispatch incendiary kites from the northern Gaza Strip. According to a Palestinian source, the cell attempted to launch the kites east to Gaza City.

Firefighters on the Gaza border battled 26 fires throughout the day Saturday and were able to gain control of all of the blazes.

The situation on the Gaza border escalated on Tuesday night after the IDF attacked three targets in the southern part of the strip in response to incendiary kites and balloons flown at Israel.

Terror groups in the Gaza Strip retaliated by firing some 45 rockets and mortar shells at Israel, with some exploding in Israeli communities located near the Gaza border.

The IAF retaliated by attacking a total of 25 Hamas targets across the Gaza Strip in three waves. Eleven targets were attacked in the last wave in four military compounds of the Hamas terror organization, including an underground training facility.