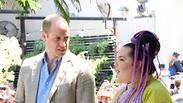 Prince William with Netta Barzilai
Photo: Shaul Golan
Prince William kicked off the second full day of his visit to Israel on Wednesday in a meeting with Eurovision winner Netta Barzilai at Tel Aviv's Rothschild Boulevard, where he visited the city's first kiosk.

The two had a drink at the kiosk on the corner of Rothschild Boulevard and Herzl Street and posed for photographs with waiters from restaurants in the area.

Many excited citizens took photos of the prince, waved at him and shouted "We love you" from behind the security fences.

Video: Dudi Lazar (צילום: דודי לזר)

William waved back at the crowd, shook hands with passersby before entering his armored vehicle on his way to meet young Israeli entrepreneurs at the city's Beit Ha'ir Museum.

Kensington Palace tweeted following the visit: "The Duke of Cambridge joined 2018 #Eurovision winner @NettaBarzilai on Rothschild Blvd for Gazoz, a fizzy soft drink #Kaparaeleichem"

From Tel Aviv, the Duke of Cambridge travelled to Ramallah for an official visit to the Palestinian Authority.

He met with Palestinian President Mahmoud Abbas at the Muqata, the headquarters of the Palestinian government in Ramallah, where he was given a red carpet welcome that included an honor guard and a band. The prince and Abbas made no immediate comments to reporters.

William will later speak a reception at the British Consulate in east Jerusalem, which will be attended by Palestinian dignitaries.

On Thursday, the prince will tour the Temple Mount, the Western Wall and the Church of the Holy Sepulchre in Jerusalem's Old City.

He will travel to the Mount of Olives to visit the grave of his great-grandmother, Princess Alice of Battenberg. William will be escorted by a Foreign Ministry representative during his tour of east Jerusalem, and by the Western Wall rabbi during his visit to the holy site.

Prince William began his first day of touring Israel on Tuesday morning, kicking off his three-day visit with a trip to Yad Vashem Holocaust Memorial Museum in Jerusalem, where he expressed his horror at the "terrifying" Nazi extermination of six million Jews during World War II.

His long day of public engagements also included a visit to Tel Aviv's Frishman Beach, a soccer event with Jewish and Arab children in Jaffa, meetings with Prime Minister Benjamin Netanyahu and President Reuven Rivlin and a reception at the British ambassador's residence in Ramat Gan.

He arrived in Israel for the first-ever official visit by a member of the British royal family on Monday evening, touching down in Ben-Gurion Airport where he was greeted by Tourism Minister Yariv Levin and Likud MK Amir Ohana.

Reuters contributed to this report.