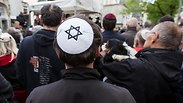 Kippah March in Berlin
Photo: EPA
German police arrests group suspected of assaulting Syrian Jew
Victim got into an argument with a group including 6 Syrians and 3 Germans early Saturday in Berlin after asking them for a lighter for his cigarette; group noticed his Star of David necklace, launched into anti-Semitic insults and assaulted him.
A group of people in Berlin has been arrested on suspection of assaulting a Jewish Syrian wearing a necklace with the Star of David, German police said Sunday.

The 25-year-old victim told police he got into an argument early Saturday after asking a group of men and women for a lighter for his cigarette.

He said one of the men discovered the necklace, launched into anti-Semitic insults and punched him.

The victim ran off but fell, and was punched and kicked by several people in the group.

The group of seven men and three women, including six Syrians and three German nationals, was detained after passers-by intervened, then released pending further investigation.

Last month, a young Syrian migrant who carried out an anti-Semitic attack on a man wearing a kippah was sentenced to four weeks detention and ordered by the court to visit a museum to learn about the history of anti-Semitism in Germany.

The court in Berlin ruled that the 19 year old had used a belt to hit an Israeli Arab who was wearing a kippah in Berlin as an experiment. He was convicted of insult and grievous bodily harm.

Video of the attack caused a public outcry in April when it was posted on the internet. Anti-Semitism remains a sensitive issue in Germany after more than 6 million Jews were murdered during the Nazi-era Holocaust.

In April, 500 people donned skullcaps for a "Kippah March" in Berlin as a show of defiance against the rising tide of anti-Semitism and as many Jews wonder about their safety in Germany.

The rising tensions have come as a time when Germany has been grappling with an influx of more than 1 million mostly Muslim migrants, along with the rise of a nationalist party, the Alternative for Germany, which was elected to Parliament last year. Its leaders are known for their openly anti-Muslim stance, but their anti-Semitism is less apparent.