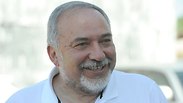 Defense Minister Lieberman
Photo: Avi Rokach
Hundreds of new homes will be built in the West Bank settlement of Adam, where a Palestinian terrorist stabbed three Israelis, killing one, Defense Minister Avigdor Lieberman said Friday.

"The best answer to terrorism is the expansion of settlements," Lieberman wrote on Twitter, announcing 400 new housing units in Adam a day after the deadly stabbing.

Mohammad Tareq Yousef, 17, snuck into the settlement on Thursday evening by climbing the security fence. He stabbed three people seemingly at random before being shot dead.

Father-of-two Yotam Ovadia, 31, who was critically wounded in the attack, succumbed to his wounds during the night and laid to rest on Friday.

A 58-year-old victim was seriously wounded but stable. The third victim was lightly wounded.

The IDF on Friday had raided the terrorist's village of Kobar, questioned a number of his family members and suspended their work permits.

During the raid on Friday morning, clashes broke out between young Palestinians and soldiers firing tear gas.

"The rioters hurled large rocks and firebombs and rolled burning tires at (Israeli) troops, who responded with riot dispersal means," an IDF statement said.

The clashes were over by mid-morning Friday, an AFP photographer said, though the army had established a checkpoint at the edge of the village.

Official Palestinian news agency Wafa said three people were arrested.

Hundreds of reinforcement troops were deployed to the Ramallah area, where the attack took place, as well as under areas in the West Bank—in Etzion, Hebron and the Samaria.

Additional reinforcements were deployed in friction points, main junctions and roads under threat across the West Bank on Friday, with army presence increased inside the settlements as well to thwart any more attacks.
US decries 'barbaric attack'
US President Donald Trump's special envoy Jason Greenblatt called on Palestinian president Mahmoud Abbas, whose Fatah movement leads the government in the West Bank, to condemn the attack.

"Yet another barbaric attack tonight. When will President Abbas and Palestinian leaders condemn the violence?" he wrote on Twitter.

There was no response from Abbas's government, which has cut ties with the Trump administration over its stance on Israel.

Lone Palestinian attackers have carried out multiple deadly stabbings and car-rammings against Israelis in recent years in the West Bank, Jerusalem and elsewhere.

The attack came after a period of relative calm in the West Bank.

The last stabbing attack in a West Bank settlement was in April, when a Palestinian tried to stab an Israeli with a screwdriver near a gas station in an industrial area connected to the Ma'aleh Adumim settlement east of Jerusalem.

In a statement late Thursday, Hamas praised the "courageous operation" in the West Bank without claiming responsibility for it.

"The West Bank is ready and able to avenge the blood of the martyrs," it said.