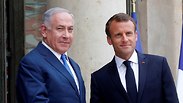 Netanyahu and Macron meet in Paris
Photo: Reuters
French President Macron cancels Israel visit
After initially planning to arrive in the spring and then postponing to the fall, Macron cancels planned November visit; Paris doesn't provide reason for cancellation, but it is likely tied to crisis the French president faces at home after his bodyguard was filmed assaulting protesters.
French President Emmanuel Macron has cancelled his trip to Israel, which was supposed to take place in November.

A year ago, Macron said he would visit Israel and the Palestinian Authority in the spring of 2018 to push for the renewal of Israeli-Palestinians peace talks. The visit was then postponed from the spring to the fall, and has now been cancelled entirely.

Paris did not provide a reason for the cancellation, but it is likely tied to the political crisis Macron is facing at home after his bodyguard was filmed assaulting May Day protesters.

The incident sparked the biggest political crisis of Macron's tenure. Critics say Macron's office failed to properly punish the head of his security detail or refer him promptly to judicial authorities over the incident. They say Macron's handling of the case shows he has lost touch with ordinary people since taking office 14 months ago.

Footage showed the bodyguard, Alexandre Benalla, hitting a male protester and dragging away a woman while off duty and wearing a riot helmet and police tags.

"I alone bear responsibility. They can come and get me. I answer to the French people," Macron told a gathering of members of parliament from his party.

The French president had not spoken in an open forum about the incident and the video of his comments was released by his supporters on social media.

The cancellation of Macron's visit comes after the French prime minister, Edouard Philippe, cancelled his own visit to Israel and the Palestinian Authority, citing domestic policy matters.

But some Israeli officials argued there was a different reason, claiming the French premier decided not to come to Israel because of the deadly protests on the Gaza border, and the way the trip might be perceived by the French public. Palestinian leader Mahmoud Abbas's bad health also played a factor.

President Reuven Rivlin also cancelled his trip to France this year, but it is expected to be rescheduled for next year.

The only one not to cancel his visit was Prime Minister Benjamin Netanyahu, who traveled to Paris in June to meet with Macron.

The governments of Israel and France have decided to mark 70 years to the establishment of diplomatic ties between the two nations with 120 events in different fields: innovation, modern art, cinema, dance, design, literature, music, theater and science. The events were to take place across the country over six months. The Israeli government even allocated NIS 6 million to the initiative.

Reuters contributed to this report.