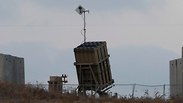 All restriction were lifted on Israeli residents of towns and cities neighboring the Gaza Strip on Friday afternoon after a ceasefire went into effect the previous night following a huge exchange of fire between Hamas and the IDF between Wednesday and Thursday.

Despite the ceasefire, which took hold at 10:45pm on Thursday evening, Hamas has called on Gaza residents to participate in demonstrations on the border.

One Hamas spokesman said that the Palestinian people would continue to stage weekly "March of Return" protests until the group's aims had been achieved, with the first being the lifting of the siege around Gaza.


"Every time the Israeli killing machine tries to break the strength and will of our people to continue its struggle, every time it will fail," said the spokesman.

Israel fears that the demonstration could erupt into violence as it has in the past, raising concerns that an IDF response could trigger a further volley of rocket fire and IAF strikes, bringing a swift end to the fragile ceasefire.

While a Hamas official confirmed that an Egyptian-brokered ceasefire had been reached, Israel maintained its policy of remaining mute on the issue, declining to confirm or deny that such an agreement had been settled.

An Israeli official said Hamas has been asking for a ceasefire since Thursday morning, but the IDF continued attacking significant targets.

Hamas' Al-Aqsa TV channel reported late Thursday that a ceasefire has taken hold "on the basis of mutual calm." It said the deal was mediated by Egypt and other regional players.

A senior Hamas official, speaking on condition of anonymity because he was not authorized to speak to the media, said the deal would formally go into effect at midnight.

He said the agreement merely ends the latest two-day burst of violence between Israel and Hamas and added that Egypt would continue efforts to broker a long-term cease-fire.

Sderot Mayor Alon Davidi said Friday that the reported ceasefire is a mistake.

"I understand the desire of the government to enter into negotiations, but Israel must end the terror with military assistance. This on and off war is unhealthy," Davidi said.

Over 180 rockets were fired from Gaza between Wednesday and Thursday, with the IDF retaliating with heavy bombardments in the strip, destroying a 5-story building, as well as several terror tunnels, military complexes and other targets.

At least seven Israelis were wounded from the Gaza rockets, with one landing as far as Be'er Sheva. Mortar shells and rockets also hit the entrance of a residential home in Sderot, a house in Hof Ashkelon Regional Council and a building in an industrial zone of the Sha'ar HaNegev Regional Council. The Iron Dome intercepted at least 30 rockets.

Palestinian officials said at least three people were killed in the Israeli attacks: Hamas fighter Ali Ghandour, 23-year-old Enas Khamash, who was pregnant, and her 18-month-old daughter Bayan. At least five civilians were wounded. Gaza's Health Ministry said the militant and the civilians were killed in separate incidents.