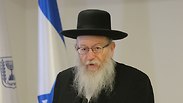 Deputy Health Minister Litzman
Photo: Alex Kolomoisky
The Health Ministry held an emergency discussion on Sunday after over 40 Israelis contracted leptospirosis.

So far, 253 suspected cases of leptospirosis have been reported to the Health Ministry, with 42 confirmed. Last week, a teenager with meningitis suffered complications after contracting leptospirosis.

"The Health Ministry is examining the streams, closely supervising the matter," Deputy Health Minister Yaakov Litzman said in comments to the media ahead of the discussion. "The streams that are bad, the ministry closes. And the ones that are good, it leaves open. We think the situation is under control."

Moshe Bar Siman Tov, the director-general of the Health Ministry, assured that "things are under control, and we're monitoring both the water sources and the sickness patterns on a daily basis. Heed our instructions, because there have been a lot of unfounded, false and biased things (being said)."

He said that with cooperation from all authorities invited to the emergency discussion, leptospirosis will not be an issue next summer.

Prof. Itamar Grotto, the deputy director-general at the ministry, said the list of locations that are unsafe is "constantly being updated" on the Health Ministry's website.

"It's important to stress that there are no limitations everywhere else (that is not on the list), and leptospirosis cannot be contracted through the air or in pool water," Prof. Grotto said, adding it's safe to travel in northern Israel.

The Nature and Parks Authority reported Saturday that the number of visitors to north Israel's water destinations has dropped due to the leptospirosis scare.

At Horshat Tal, the number of visitors dropped from 1,800 to 800 in a week. In Nahal Snir, visitor numbers dropped from 1,650 to 700, and Gan Hashlosha saw only 1,700 visitors, 1,100 less than last week.

The reason for the infection outbreak is yet unclear. It is thought to be related to cattle herds that graze in the Golan Heights and contaminated streams with feces, as well as low volume flow due to the continuing drought.

Prof. Michal Hovers, who runs the infectious diseases unit at the Meir Hospital in Kfar Saba, explained that the infection is caused by the Leptospira bacteria, which originates in animals.

"Animals infected the waters and streams, and people who either bathe there or come into contact with mice urine in outdoor habitats can catch this infection," she said in an interview with Ynet.

"Symptoms can be mild in some cases but in others the infection can become severe and lead to kidney and liver failure," she continued.

Prof. Hovers added that symptoms include fever, flu-like symptoms and sometimes corneal infections but emphasized that not all symptoms require admission to the hospital.

There are over 1 million cases of leptospirosis recorded every year, mostly in third world countries. In Israel, it's fairly rare, with an average of 10 cases a year.