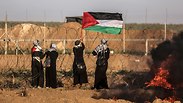 מהומה מהומות ב עזה הפגנה גדר המערכת פלסטינים פלסטיני מפגינים אלימות עשן
Photo: EPA
Senior political official claims still 'no agreement' with Hamas
Following defense minister's remarks that he does not believe 'in an agreement' with the terror group, a senior source says although ceasefire talks are ongoing, wide-scale agreement yet to be reached; Meanwhile, clashes erupt along Gaza border as 5,000 Palestinians take part in weekly protests.
A senior political source addressed on Friday the expected renewal of indirect talks between Israel and Hamas regarding a long-term ceasefire, saying that although there is still "no agreement", the talks are ongoing and "achieving a ceasefire," is the ultimate goal.

The remarks come in light of Defense Minister Avigdor Lieberman's statement earlier saying he does not "believe in an agreement with Hamas."

"Today we are still continuing the talks through the Egyptian and UN channels, as was the case during Operation protective Edge," the senior official went on to say.

"However, the main priority is achieving a ceasefire. If there is a cease-fire, we can examine broader options. If there will not be a ceasefire, we will not examine it. If we will be able to reach a comprehensive ceasefire, we will move on to the next stage and see how we can solve the humanitarian crisis," stressed the source.

"Will the ceasefire last? No one knows. Is this progress temporary? Could be," concluded the source.

Meanwhile, some 5,000 Palestinians protested in a weekly "March of Return" demonstration in the Gaza Strip. They hurled rocks at the IDF forces and burned tires in several locations along the border.

The Israeli troops responded with crowd dispersal measures and with live fire in accordance with the rules of engagement, targeting key instigators.

Gaza's Health Ministry says 50 demonstrators were wounded and dozens more were treated for tear gas inhalation.

In addition, Hamas threatened that Israel would "pay the price" if sanctions imposed on the Gaza Strip by Palestinian Authority President Mahmoud Abbas continue or worsen.

"Israel is responsible for ending the current situation in coordination with, and encouraged by, him (Abbas)," a Hamas statement said.

Earlier on Friday, Earlier on Friday, Defense Minister Lieberman said during a visit to Kibbutz Kissufim adjacent to the Gaza Strip that he does not believe in reaching an agreement with the Hamas terror group, as Israel works to achieve a ceasefire to end months of fighting that has repeatedly brought the two sides to the brink of war.

"I am not involved in the arrangement, I don't believe in the arrangement and the only arrangement is reality on the ground," the defense minister said.

"Over the last few days, we have seen that Hamas is in complete control of what goes on here. All the violence has decreased to almost zero," he stated.

"I am trying to form the equation between security quiet and economy. If there's terror, there's no economy. If there's no terror, there will be an economy," the defense minister explained.

"There has to be a direct connection. That is the important message that we are trying to communicate to the Gaza residents, to the average Gazan who is concerned with making a living and who thinks about how to provide for his family," he continued.

"Therefore, if there is quiet this Friday, the (Kerem Shalom) border crossing will remain open. If there is no quiet, it will be closed," Lieberman concluded.

Bayit Yehudi chairman and Education Minister Naftali Bennett, welcomed on Defense Minister Lieberman's remarks.

"It is good that the defense minister now shares our perception and understands that we cannot allow Hamas extort us," Bennett exclaimed.

"It is essential now to prevent Hamas from rearming themselves with tens of thousands of rockets in order not to find ourselves with another Hezbollah on the Gaza border," stressed the education minister.

Associated Press contributed to this report.