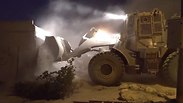 IDF demolises house of terrorist Mohammad Tareq Yousef from village of Kobar
Photo: IDF Spokesperson
The IDF demolished on Monday the house of terrorist Mohammad Tareq Yousef from village of Kobar in the West Bank, who carrried out a stabbing attack in the settlement of Adam last month in which Yotam Ovadia was murdered.

During the operation, violent riots broke out, and dozens of Palestinians threw stones, Molotov cocktails, torched tires, and pipe bombs at the soldiers.

IDF forces demolishes house in Kobar

The terror attack in Adam took place on the eve of July 26 when Yousef, 17, infiltrated the settlement through the fence, passed through a playground and stabbed three people at random before being shot dead by one of his victims.

Father-of-two Yotam Ovadia, 31, who was critically wounded in the attack, succumbed to his wounds and was laid to rest the next day. A 58-year-old victim was also seriously wounded, along with a third victim who sustained light injuries.


The terrorist's house was demolished sooner than in previous cases that have taken place in the last couple of years, in light of emerging criticism about the effectiveness of demolishing terrorists' houses as a deterrence policy against further terror attacks.

According to the IDF, 35 terrorists' homes were demolished while five others were sealed between 2015 and 2017. So far in 2018, four houses have been demolished and one sealed, with three other demolitions pending.

A legal battle is currently being waged by the family of the terrorist who murdered Adiel Kolman at the Lion's Gate in Jerusalem some five months ago, who submitted objections to the demolition.

In recent years, there has been a significant decline in the number of actual demolition of terrorists' homes.




The National Union faction in the Bayit Yehudi party has turned several times to Dina Poliak, the Ministry of Defense's Freedom of Information officer, as well as to the Public Security Ministry, the Israel Police and the IDF, asking why many terrorists' homes have yet to be razed.