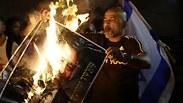 Protester burns picture of Aryeh Deri
Photo: Amit Sha'al
Netanyahu condemns burning of Deri's picture in south Tel Aviv
PM says that while he sympathizes with frustration expressed by residents during anti-migrant demonstration, Israeli society has 'no place' for burning pictures of a minister; opposition leader hints Netanyahu responsible for fanning flames of anger in Israeli society.
Prime Minister Benjamin Netanyahu condemned on Friday the burning of pictures of Interior Minister Aryeh Deri at a demonstration staged the previous night in south Tel Aviv against the government's failure to remove illegal African migrants from the area.

"I condemn the wrong act of burning pictures of Minister Deri. We have no place for acts such as these," the prime minister said in a statement issued a day later.


In the same statement, Netanyahu said that he sympathized with frustration expressed by south Tel Aviv's residents, who complain that they are forced to contend with the large presence of illegal African migrants.

"I sympathize with the plight of the residents of south Tel Aviv. The government, under my direction, together with Interior Minister Aryeh Deri, is undertaking constant efforts to remove the infiltrators from Israel, in both overt and covert ways," Netanyahu said.

South Tel Aviv has been seriously affected by the wave of illegal migration in recent years that swept through Israel's once-porous southern border.

The roughly 35,000 - 37,000 Africans, mainly from war-torn Sudan and dictatorial Eritrea, began arriving in Israel in 2005 through its border with Egypt after Egyptian forces violently quashed a refugee demonstration and word spread of safety and job opportunities in Israel.

Tens of thousands crossed the desert border, often after enduring dangerous journeys, before Israel completed a barrier in 2012 that stopped the influx.

Since then, Israel has wrestled with how to cope with those already in the country. Many took up menial jobs in hotels and restaurants, and thousands settled in southern Tel Aviv, where Israeli residents began complaining of rising crime.

Defense Minister Avigdor Lieberman also castigated the protesters for the burning of the pictures of the Shas leader, which one MK said, justifies a launching of an investigation into incitement.

"No protest justifies the burning of picture of ministers. These kinds of images are appropriate in other countries, not ours," Lieberman wrote on his Twitter page. "I expect the heads of the protest in south Tel Aviv to condemn the act."

Other senior political officials quickly joined the chorus of condemnation sparked by the controversial act carried out by a handful of the 400 demonstrators on the corner Levinsky Street and Levanda Street

"The right to demonstrate is one of the most important in our democracy, but I condemn any act of violence. I support the justified protest of the south Tel Aviv residents, but the burning of the pictures of Minister Deri last night crossed the line," said Knesset Speaker Yuli Edelstein.

The demonstration's slogan—"Sophie is still waiting! Returning sovereignty!"—was selected as a reference to a meeting held between an elderly lady and Prime Minister Benjamin Netanyahu during his visit to the area last year, who explained her difficulties and was promised by the prime minister that the migrant issue would soon be resolved.

Angry residents vented their frustration at what they say was an unfulfilled promise by Netanyahu last August to "return south Tel Aviv to Israel", waving placards bearing slogans such as, inter alia, "Bibi, you promised. Deliver!" and "We live in Africa."

Other MKs hailing from the ultra-Orthodox parties continued the torrent of condemnation, including United Torah Judaism Deputy Health Minister Yaakov Litzman.

"This is a crossing of a red line in a legitimate dispute. It was an act that expresses wild and dangerous incitement against a serving minister, a public representatives" Litzman said, adding that it "cannot be accepted." He further called on the police to bring those responsible to account.

Criticism also poured in from the Left of the political aisle, with Zionist Union leader Avi Gabbay blaming leaders for the manifestation of violence.

"The irresponsible discussions by leaders causes violence among extremists. That is both true when they attack Arabs just because they are Arabs, and when they burn pictures of a minister at a protest," Gabbay said.

"Over the last decade our society has been torn within. The hand that lit the fire lost control and is still adding fuel. The wider public sees this and will bring about a change," Gabbay continued in an apparent jab at Netanyahu.