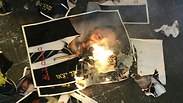 Pictures of Interior Minister Aryeh Deri burned during protest
Photo: Liberation of South Tel Aviv Front
Deri's pictures burnt in south Tel Aviv anti-migrant demo
Shas MK Yinon Azoulay calls for investigation into incitement after handful of some 400 protesters burn pictures of interior minister Deri as they protest government's failure to deport illegal African migrants from area; 'Netanyahu, for a moment I believed your promises' says protest ringleader.
Residents of south Tel Aviv rallied in the streets on Thursday evening in a display of anger over the government's failure to fulfil promises made last year to rid the area of illegal African migrants, with some protesters burning pictures of Shas leader and Interior Minister Aryeh Deri.

The demonstration's slogan—"Sophie is still waiting! Returning sovereignty!"—was selected as a reference to a meeting held between an elderly lady and Prime Minister Benjamin Netanyahu during his visit to the area last year, who explained her difficulties and was promised by the prime minister that the migrant issue would soon be resolved.

Angry residents vented their frustration at what they say was an unfulfilled promise by Netanyahu last August to "return south Tel Aviv to Israel", waving placards bearing slogans such as, inter alia, "Bibi, you promised. Deliver!" and "We live in Africa."

Shas MK Yinon Azoulay called for the opening of an incitement investigation after pictures of Deri were set alight while protesters calling for the migrants' deportation assembled on the corner Levinsky Street and Levanda street.

He also called on Public Security Minister Gilad Erdan to assign Deri additional security until the matter was clarified.

"Freedom of speech cannot tolerate calls for murder at all, and especially not against a government minister. The severity of the act demands the involvement of law enforcement officials,: Azoulay said.

South Tel Aviv has been seriously affected by the wave of illegal migration in recent years that swept through Israel's once-porous southern border.

Around 400 activists gathered as they called for the deportation of the roughly 35,000 - 37,000 Africans, mainly from war-torn Sudan and dictatorial Eritrea, who began arriving in Israel in 2005 through its border with Egypt after Egyptian forces violently quashed a refugee demonstration and word spread of safety and job opportunities in Israel.

The protesters carried signs insisting that the migrants were neither endangered refugees or asylum seekers, but were rather "invaders and infiltrators." They also called for the reopening of the Holot detention facility where many of the migrants were being held before its closure.

"How does a person feel when his country betrays him?" asked Shefi Paz, a resident of southern Tel Aviv and one of the leaders of the Liberation of South Tel Aviv Front movement who is also one of the initiators of the protest. "Like the vomit smeared on the floor of the detention room," she answered as she addressed the crowds on a microphone.

"Like an infiltrator is spitting in your face ... Like the drug addict hanging out at the entrance to the house. Like the empty promises," she continued, before lashing out at Netanyahu.

"Benjamin Netanyahu, a year and three months ago you said 'I promise' and I was so afraid of believing you. Then, exactly one year ago, here in south Tel Aviv, you smiled and said: 'You see, I promised and I fulfilled' and for a moment … I chose to believe you. Then the fear returned which accompanied me until April, until everything crashed. The fear of hoping and deceiving the broken people," she said.

The deportation plan, she complained, collapsed like a house of cards. The deportation activists, Paz insisted, stopped Israel from "surrendering" to the UN after Netanyahu announced that he was suspending the implementation of the plan reached with the UN High Commissioner for Refugees (UNHCR) on the deportation of African immigrants, just hours after announcing that he had approved it.

"We stopped it … because we knew that this deal was bad for Israel and that the boats from Africa were already on the way and that we must not give up," she said.

"Now the time has come to speak openly and without political correctness. We don't want you here. Eritreans, Sudanese, Indians, Georgians, Moldovans, Ukrainians, Colombians, Nepalese, Filipinos or anyone else who entered into Israel illegally or who stayed here illegally," Paz declared.

"When you want, Netanyahu, you can do something. But you really have to want. Like in the days when you boldly and courageously built the fence. Find a way," she urged the prime minister.

"Be smart. Think outside the box. Reopen the Holot facility. Put an end to this labor dispute in the Immigration Authority. Enforce the law. Give the deterrence powers back to the police. Arrest those without a status for any offense. Hand out heavy punishment against anyone caught without valid residency permits. The main thing is that you fulfil your promise that you gave to Sophie a year ago," Paz concluded.