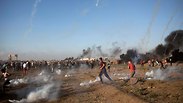 Gaza border riots
Photo: AP
IDF forces shot dead Sunday a Palestinian who had approached the Gaza border fence and attempted to sabotage it.

IDF Spokesperson's Unit said that the Palestinian had been evacuated to receive medical attention before succumbing to his wounds.

Earlier, the Palestinian tried to sabotage the security fence several times.

In addition, the IDF detained three Palestinians attempting to breach the border fence in northern Gaza. They were caught carrying two knives.

The three were taken for questioning by the security forces.

GOC Southern Command Maj. Gen. Herzi Halevi said Sunday morning that "We will not witness complete calm during the upcoming decade in the Gaza Strip," referring to the ongoing talks to reach a ceasefire agreement with the Hamas terror group.

"I think it will be wrong to deceive ourselves. Terror-run Gaza is developing capabilities. We are stronger than it, but from time to time it will attempt (to overpower us-ed).

During Friday's weekly clashes on the Gaza border fence a 17-year-old Palestinian was killed by a gunshot to his chest in the southern strip after throwing stones at IDF soldiers.

The Palestinians released Saturday footage of an alleged shooting of 16-year-old Ahmad Abu Tayoor by the IDF, who later succumbed to his wounds.

Palestinian teen shot after throwing stones at IDF soldiers

Abu Tayoor was filmed hurling stones and provoking soldiers.

"The incidents will be investigated by the relevant command echelons. The cases in which two Palestinians were allegedly killed will be transferred for examination to the IDF's General Staff," stressed the IDF statement.

"During violent riots that erupted along the border fence in the Gaza Strip yesterday, IDF soldiers were prompted to use crowd dispersal measures in accordance with the regulations in response to attempts to breach the fence and harm our forces," added the statement.

"The rioters burned tires and threw rocks and explosive devices at the forces. We are also aware that two people—who took part in violent clashes on Friday—reported to have been killed," the statement concluded.

An IDF aircraft attacked Friday a Hamas observation post in northern Gaza in retaliation to "March of Return" protesters throwing grenades at soldiers near the border fence.

In addition, the IDF attacked a Hamas post in southern Gaza, responding to rioters causing severe damage to infrastructure.