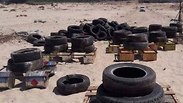 Palestinians send incendiary tires to Israeli shores
Following months of kites and balloons terrorism, Gazans appear to have weaponized yet another tool as they set fire to dozens of tires and set them afloat on rafts in an attempt to reach Israel's maritime border; meanwhile, dozens of Palestinian boats try to approach Israeli waters prompting IDF to fire warning shots.
Hundreds of Palestinians gathered on the beach in the northern Gaza Strip on Monday where they reportedly set afloat on rafts dozens of burning tires, in an attempt to reach Israel's maritime border.
Earlier, dozens of Palestinian boats tried to approach the border with Israel, promoting the navy forces to fire warning shots in the direction of the boats, which resulted in an immediate retreat by the Palestinians.
Gaza's Health Ministry says 10 Palestinians were wounded by Israeli fire along the territory's coast and a Palestinian cameraman in a "Press" vest was shot in the leg. Israel's military said forces shot next to the vessels and at Palestinians on land who threw an explosive device and rolled burning tires at soldiers.
Israeli navy fire warning shots at Palestinian boats
Flotillas of this nature have become a regular occurence, and similar incidents usually end with Palestinian ships returning to the Port of Gaza, without reaching their objectives, following a confrontation with the Israeli navy, who usually have to resort to firing warning shots.
On Saturday, IDF forces identified four Palestinians who were trying to breach the border fence in the northern Gaza Strip. The IDF Spokesperson's Unit later said the soldiers had arrested the suspects, who were armed with a knife and an axe, and transferred them for further questioning.
In addition, GOC Southern Command Maj. Gen. Herzi Halevi said in an interview with Radio Darom he does not believe that complete calm would be achieved in Gaza in the near future.
Speaking in his first interview since he had assumed his position, Halevi said, "In my opinion, we will not witness complete calm during the next decade in the Gaza Strip," referring to the ongoing talks regarding a long term ceasefire arrangement with Hamas.
However, the major general expressed his support for building a seaport in Gaza.
"I'm in favor of doing everything possible to improve the condition of Gaza's residents as long as Hamas is not empowered and the security of Israel's citizens remains at least as good as it is today," he stressed.
"We aspire for improvement. If the seaport will be used as passage of goods for Gaza's residents and not as a tool to bolster Hamas, building it would be the right thing to do. It would also lower the hostility (towards Israel)," Halevi concluded.
Associated Press contributed to this report.