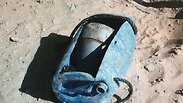 Explosive device
IDF Spokesperson's Unit
The IDF neutralized an explosive device located near the security fence in the southern Gaza Strip on Thursday.

The IDF Spokesperson's Unit issued an official statement following the incident.

"The terror squad that planted the bomb had plans to attack IDF soldiers and disrupt the activity of the forces operating in the area," said the statement.

"The planting of the explosive device, conducted under a disguise of violent riots along the border, is another confirmation that Hamas terror organization is working to preserve the confrontation in the border area and to harm IDF soldiers while using civilians in the Gaza Strip as human and as a cover for terrorist activity," the IDF stressed.

"The IDF is ready to act against terror that seeks to harm its forces and defense infrastructures," concluded the statement.

The terror activity along the southern border continued to occur all throughout the Rosh Hashanah celebrations.

On Monday, hundreds of Palestinians gathered on the beach in the northern Gaza Strip where they set afloat on rafts dozens of burning tires, in an attempt to breach Israel's maritime border.

In addition, dozens of Palestinian boats tried to approach the border with Israel, promting the navy forces to fire warning shots in the direction of the boats, which resulted in an immediate retreat by the Palestinians.

Gaza's Health Ministry says 10 Palestinians were wounded by Israeli fire along the territory's coast and a Palestinian cameraman in a "Press" vest was shot in the leg. Israel's military said forces shot next to the vessels and at Palestinians on land who threw an explosive device and rolled burning tires at soldiers.

On Saturday, IDF forces identified four Palestinians who were trying to breach the border fence in the northern Gaza Strip. The IDF Spokesperson's Unit later said the soldiers had arrested the suspects, who were armed with a knife and an axe, and transferred them for further questioning.