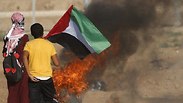 Two Palestinians reportedly killed during Gaza riots on Yom Kippur
Gaza's Health Ministry says 2 dead and 46 wounded following violent clashes that erupted along southern border on holiest day of Jewish calendar; IDF reports 20 Palestinians breached security fence, leaving explosives near the border; incendiary balloons start fire in Eshkol.
Gaza's Health Ministry claimed on Tuesday that two Palestinians were killed and at least 46 wounded by the IDF fire in the northern Gaza Strip during violent demonstrations which took place on Yom Kippur, the holiest day of the Jewish year.
The IDF had no initial knowledge of any casualties or that live fire had been used, a spokeswoman said. Israel was marking the Yom Kippur fast day from dusk on Tuesday, and very few officials were available for comment.
Many youths burnt tires and hurled stones at Israeli security forces, local residents said. A doctor at Gaza's Indonesian Hospital said both men were hit by live ammunition. Three of the wounded were also hit by bullets.
On Wednesday, 20 Palestinians breached the security fence in the southern Gaza Strip, spray painting an IDF outpost and leaving incendiary devices near the border fence.
Most of the perpetrators retreated back to the strip soon after the breach.
The IDF said hundreds of Gazans participated in the riots, burning tires and throwing explosive devices and rocks at the soldiers. In one incident a grenade was thrown at the troops, prompting the forces to respond with crowd dispersal measures in accordance with IDF's open-fire regulations.
No injuries among the Israeli security forces were reported.
In addition, two incendiary balloons were found in the Eshkol Regional Council, resulting in four fires breaking out in the area. Firefighting crews managed to gain control of the flames.
Also on Tuesday, police shot dead a Palestinian man who charged at a Jewish worshiper with a screwdriver and attempted to stab several police officers near Jerusalem's Old City shortly after Yom Kippur began.
Israel began placing a closure around the West Bank overnight Monday while shutting the Erez and Kerem Shalom border crossings between Israel and the Gaza Strip ahead of Yom Kippur—the Jewish holiday of atonement and repentance.
Late Monday night, two Palestinians were killed by an Israeli missile strike on terrorists who the IDF said were placing a suspicious object near the Gaza border fence.
An Israeli military spokesman said in a statement that an aircraft fired at "terrorists (who) suspiciously approached the security fence in the southern Gaza Strip and placed an object adjacent to the fence".
Reuters contributed to this report.