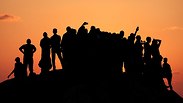 Gaza border riots
Photo: Reuters
The Palestinian health ministry said Thursday that Israeli forces opened fire during violent riots in the southern Gaza Strip on Wednesday, resulting in the death of a 15-year-old demonstrator.

An IDF spokeswoman said she had no knowledge of the incident.

Ashraf Al-Qidra, a spokesman for Gaza's health ministry, said 15-year-old Moamen Ibrahim Abu Eyada was shot dead by Israeli soldiers east of the town of Rafah, which lies at the southern end of the Gaza Strip and borders Egypt.

The border between Gaza and Israel has been the scene of weekly Palestinian demonstrations since March 30 and recently, protests have taken place late at night.

Some 20 Palestinians breached the security fence in the southern Gaza Strip Wednesday, spray painting an IDF outpost and leaving incendiary devices near the border fence, and two incendiary balloons were found in the Eshkol Regional Council, resulting in four fires breaking out in the area.

Most of the perpetrators retreated back to the strip soon after the breach.

Firefighting crews managed to gain control of the flames sparked by the flammable balloons.

The army said earlier that during the day there had been several incidents along the Gaza-Israel border "with the participation of hundreds of rioters" who rolled burning tires and hurled firebombs and rocks at soldiers. It said there were no Israeli casualties.

The IDF says it is defending its border against rioting protesters who have sought to breach the fence and enter Israel.

In addition, the Palestinians claimed on Tuesday that two Palestinians were killed and at least 46 wounded by the IDF fire in the northern Gaza Strip during violent demonstrations which took place on Yom Kippur, the holiest day of the Jewish year.

Gaza medics said that two Palestinians were killed by an Israeli missile strike on terrorists who the IDF said were placing a suspicious object Monday night near the Gaza border fence.

An IDF spokesman said in a statement that an aircraft fired at "terrorists (who) suspiciously approached the security fence in the southern Gaza Strip and placed an object adjacent to the fence".

Furthermore, thousands gathered Monday on the beach along the border fence separating the Gaza Strip and Israel to demonstrate against Egypt and Israel's blockade.

Gaza's Health Ministry says 26 Palestinians were wounded during the mass protest.

Some 13,000 Palestinians gathered at several points near the fence Friday, some of them hurling rocks and fire bombs at troops, under the cover of smoke from burning tires.