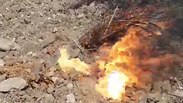 Fire in Gaza border region
An IAF aircraft attacked on Thursday a terror cell in the northern Gaza that was launching incendiary balloons into Israeli territory from the strip.

The strike comes in light of violent demonstrations along the southern border, which continued throughout Yom Kippur.

Last night, a spokesman for Gaza's health ministry, said a 15-year-old boy was shot dead by Israeli soldiers east of the town of Rafah, which lies at the southern end of the Gaza Strip and borders Egypt.

On Tuesday, two Palestinians were reportedly killed and at least 46 wounded by the IDF fire in the northern Gaza Strip during violent demonstrations which took place on the holiest day of the Jewish year.

On Wednesday, 20 Palestinians breached the security fence in the southern Gaza Strip, spray painting an IDF outpost and leaving incendiary devices near the border fence.

Most of the perpetrators retreated back to the strip soon after the breach.

The IDF said hundreds of Gazans participated in the riots, burning tires and throwing explosive devices and rocks at the soldiers. In one incident a grenade was thrown at the troops, prompting the forces to respond with crowd dispersal measures in accordance with IDF's open-fire regulations.

In addition, two incendiary balloons were found in the Eshkol Regional Council, resulting in four fires breaking out in the area. Firefighting crews managed to gain control of the flames.