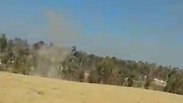 Balloons explosion
Photo: Abu al-Qian
A cluster of balloons, with suspicious devices attached to it, exploded on Monday morning in the Kissufim Forest, where the balloons initially landed.

No casualties or damage was reported.

Hamed Abu al-Qian, a local fireman, documented the event using his smartphone.

Explosion of balloons with explosive devices attached to them (צילום: חאמד אבו אלקיעאן כבאי נגב מערבי קק״ל.)

"I was in the Kissufim area and I saw the balloons in the air. One of the balloons was connected to an explosive device and after a short while in the air I saw it explode," he exclaimed.

Abu al-Qian hurried to the area of ​​the explosion and saw that the rest of the balloons had explosive materials attached to them as well.

In the meantime, firefighting crews reported that a small fire broke out in Kibbutz Nahal Oz as a result incendiary balloons being flown into Israeli territory from the Gaza Strip.

On Sunday, nine fires broke out in the Gaza border region as a result of incendiary balloons.

The biggest fire was reported in the wadi of Nahal Gerar in the Negev desert, where almost 300 dunams of land had been burned down.

In addition, on Sunday evening the IDF said that the Israel Air Force (IAF) attacked an incendiary balloons cell in the Gaza Strip.

On Saturday, eight fires broke out in the Gaza border communities as a result of incendiary kites and balloons. One of the fires started in the Nahal Bohu Park at the entrance to the southern city of Netivot.

On Thursday, an IAF aircraft also attacked a terror cell in the northern Gaza that was launching incendiary kites and balloons into Israel.

On Sunday, Hamas leadership announced that the indirect ceasefire talks with Israel have halted and the terror group intends to intensify border violence.