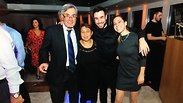 After sending the Tenzer family a letter stating that the parents of the family live in "Jerusalem", while their two children live in "Palestinian territories," the Belgian consulate in Jerusalem has announced the error was due to a technical malfunction in its computers that has since been amended.
"We would like to inform you that due to a technical error in our computer, the addresses of your children Talia and Gilad were incorrectly registered, and since then the error has been corrected," the second letter the consulate sent read.
The family reside in the Pisgat Ze'ev neighborhood, which is located over the Green Line in eastern Jerusalem that was captured and annexed by Israel during the 1967 Six Day War.
The first letter, which was sent to every Belgian citizen as the Western European country approaches its national elections, was intended to explain to all expats their rights and how to cast their vote.
The family said that all letters addressed to the family from the Belgian consulate have always referred to all its members simply as residents of Jerusalem.
The mother, Annabel Hertziger Tenzer, received the letter addressed to Jerusalem, while her children, Talia (24) and Gilad (26)—both of whom live in the same apartment—received a letter addressed to "Palestinian territories."
According to the family, the sudden shift in policy was prompted by the transfer in May this year of the US Embassy from Tel Aviv to Jerusalem, a move that was rejected by the European Union, which believes that the fate of the holy city should be decided in final status negotiations between Israel and the Palestinians.
Alex Tenzer, the father of the Belgian family said, "This proves one should never give up. Belgium views Pisgat Ze'ev as part of Jerusalem because of our struggle.
"I hope other countries will acknowledge the fact Jerusalem, which is Israel's capital, cannot be divided," he concluded.