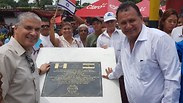 Israeli ambassador to Guatemala with Tiquisate mayor
Four cities in Guatemala have decided to rename streets, squares and a park "Jerusalem the capital of Israel," as a sign of support for Guatemalan President Jimmy Morales' decision to recognize Jerusalem as the capital of Israel and transfer its embassy to the city.

Guatemala remains the only country in the world, aside from the United States, which maintains its embassy in Jerusalem, after, in an about face, Paraguay relocated its embassy to Tel Aviv, surrendering to Palestinian pressure.



Guatemala was the first country to follow in the United States' footsteps after President Donald Trump's declared that Jerusalem is the capital of Israel. Two days after the opening of the US Embassy in the Israeli capital, President Morales inaugurated the Guatemalan Embassy in Jerusalem, together with Prime Minister Benjamin Netanyahu.

The Israeli Embassy in Guatemala launched a new initiative and issued a call to mayors to name streets, squares and parks throughout Guatemala with the name "Jerusalem the capital of Israel."

"It is not merely 'Jerusalem,' of which streets throughout the world carry that name, but 'Jerusalem the capital of Israel,' as an official name, so that no one will have any doubts," the embassy explained.

Members of the Shalom Club, which coordinates activities of Israel's national aid arm graduates, throughout Guatemala act as ambassadors of goodwill for Israel and assisted the Israeli Embassy in persuading mayors to carry out the move.

To date, four city mayors have raised the gauntlet: Guastatoya in June, San Diego in August and Tiquisate in September. In those three cities, the Israeli ambassador to Guatemala, together with the local mayor and in the presence of hundreds of city residents, inaugurated the "Jerusalem the Capital of Israel" street.

Later in October, the ambassador will inaugurate a square named "Jerusalem the Capital of Israel" in the city of San Jose.

The embassy noted that they have received messages from other mayors who also intend to take a similar step.

"We are pleased and proud to serve in a friendly country like Guatemala, whose true friendship towards the State of Israel is felt not only on the part of the government but also by the citizens. Guatemala is thus far the only country in the world where there are streets whose official name is 'Jerusalem the capital of Israel.' We will continue to strengthen the friendly relations and cooperation between the two countries and the two peoples," the Israeli Embassy in Guatemala said in a statement.