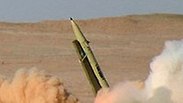 Iranian missile (file photo)
Former intelligence chief: Iran is forming missile plants in Lebanon
Maj. Gen. (res.) Amos Yadlin, says Iran changed its strategy: instead of basing precision missile factories in Syria, they are transferring missile precision equipment to Hezbollah; Yadlin: 'If Israel doesn't do anything, the price will be paid in war.'
The former head of Military Intelligence, Maj. Gen. (res.) Amos Yadlin set down for an interview with Ynet Sunday and addressed Iran's transfer of GPS missile system to Hezbollah.

According to Fox News, Iran has reportedly stepped up its shipments of advanced weapons to Hezbollah in Lebanon. One of the shipments arrived in Lebanon last week, transporting GPS components to make unguided rockets into precision-guided missiles, thereby increasing the threat to Israel.

In addition, according to the report, which cited American and Western intelligence sources, an Iranian cargo plane reportedly took off from the Tehran International Airport last Tuesday at 9:33am, flying to an unknown destination. It later arrived in Damascus and then continued to Beirut, where it landed just after 2pm, Fox News said, citing flight tracker software.

Yadlin, head of the Institute for National Security Studies (INSS), said in response to the report that "the Iranians were severely beaten on May 10. The IDF attacked about 50 targets in Syria where the Iranians were based, it took them some time, but according to my estimates, they changed strategy: instead of basing the precision missile factories in Syria, they decided to do it in Lebanon.

"It is more problematic for Israel since Israel, to this day, has not attacked the Iranian consolidation in Lebanon or Hezbollah's weaponry, and now there are missile conversion factories. According to the report, these are statistical missiles that strike at a distance of several kilometers. This poses a very difficult dilemma for Israel," Yadlin explained.

The cabinet's assessment is that if Israel deliberately attacks Hezbollah targets, we face an almost certain war?

"This should be the working assumption, of course it will be necessary for the Israeli Intelligence Community to give an estimate of the chances of war, and whether there are courses of action that on the one hand achieve the goal and on the other hand do not escalate the situation and start a war. In Syria, the IDF learned how to formulate such a course of action that did not lead to war."

Are we to expect Israeli attacks in Lebanon from now on?

"Israel is facing two choices: first, to strike, not necessarily by air, there are other methods to harm Iran's establishment in Lebanon. Second, Israel can do what it has been doing for the past 12 years. Between 2006 and 2018, Israel did not act against Hezbollah's buildup, and therefore the organization is much stronger today than it was in 2006. This is a serious dilemma, which will be raised in the Security Cabinet meeting."

Can Israel strategically allow Hezbollah to continue its military buildup?

"If Israel does not do anything, Hassan Nasrallah's organization will turn its Order of battle of its statistical Missiles and rockets into precision missiles. The price will be paid in war."

Do you think this is a mistake? Because we know their arsenal is very big.

"True, their arsenal is large, but as long as they don't have precision missiles, it is a terrorist weapon factory— it cannot attack important our power centers Israel, intelligence bases, air force bases, the Kirya base, or power stations. Today Hezbollah can mostly strike innocent civilians, but damage to Israel's military can only be caused by precision missiles."

Is this a change Israel will not accept?

Yes, the prime minister and defense minister announced, both in Israel and abroad, that Israel will not accept this change. The transition from announcements, speeches and declarations to action is the most difficult part. We need to see where the government is heading. "