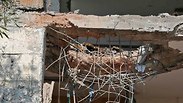 Damage caused to house in Be'er Sheva hit by rocket
Photo: AFP
Cabinet ministers: Malfunction caused Gaza rocket fire
Israeli intelligence determines with very high degree of certainty that a lightning strike caused the rocket fire that hit Be'er Sheva and off the coast of central Israel last week; 'We acted very responsibly,' one Security Cabinet member explains. 'It wasn't right to go to war because of the weather.'
Hamas and Islamic Jihad may not have intentionally fired the two rockets at Be'er Sheva and central Israel last week.

Security Cabinet ministers told Ynet on Monday the government decided against launching a military operation in the Gaza Strip following the rocket attack because Israeli intelligence determined, with a very high degree of certainty, that the rockets were fired due to a malfunction caused by the lightning storm that raged on the night between Tuesday and Wednesday.

According to one minister, there was indication Hamas and Islamic Jihad were embarrassed by the incident and even exchanged accusations before realizing the rocket launches were the result of a malfunction.

Rockets fired from Gaza during lightning storm

"We acted very responsibly," the minister explained. "It wasn't right to go to war because of the weather."

He stressed that despite the tensions on the Gaza border, Israel continues giving a chance to efforts by Egypt and the UN to reach an arrangement between Israel and Hamas.

Reports that a lighting strike caused the rocket launch first emerged on Wednesday night, when the Cabinet convened to discuss a possible response to the attack.

At first, the ministers had a hard time believing this and even made jokes on the matter, but after receiving intelligence information on the matter, they were convinced and decided there is enough evidence to point to the rocket launch indeed being the result of a malfunction.

Defense Minister Avigdor Lieberman, who has been expressing doubt the Egyptian mediation would bear fruit, said Monday he remains convinced a strong blow against Hamas is necessary, adding however that he is committed to the decisions of the Cabinet.

"I don't believe in any arrangement with Hamas. It doesn't work, it hasn't worked before and it won't work in the future," Lieberman said during a discussion at the Knesset's Foreign Affairs and Defense Committee.