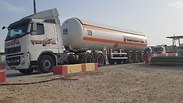 Fuel supply into Gaza resumed
Photo: Barel Efraim
Israel resumes supply of Qatari-funded fuel to Gaza
After 12-day halt, Defense Minister Lieberman accepts recommendation of security services to allow diesel back into the strip; Netanyahu in Sderot: 'We're ready for any scenario in Gaza, we'll handle this in a very determined and very calculated manner.'
Israel will resume supplies of fuel to the Gaza Strip on Wednesday morning after a 12-day halt imposed over violent border clashes.

The Defense Ministry suspended the deliveries of Qatari-financed diesel on October 12, hours after a group of 20 Palestinians blew up a hole in the border fence and infiltrated Israel to attack an IDF post. The IDF opened fired at the Palestinians, killing three of them.

"In accordance with recommendations by security bodies it has been decided to resume the supply of Qatari fuel from tomorrow," the Defense Ministry statement said on Tuesday night.

Fuel supply resumed to Gaza (צילום: בראל אפרים)

On Sunday, Defense Minister Avigdor Lieberman ordered the reopening of Gaza's goods and pedestrian crossings into Israel after a four-day closure sparked by a Palestinian rocket attack into southern Israel.

His office cited "a decrease in the violent events in Gaza over the weekend and efforts Hamas made to restrain" border protests as grounds for the reopenings.




Prime Minister Benjamin Netanyahu, who visited Sderot on Tuesday to back incumbent Mayor Alon Davidi in his reelection campaign, said Israel was "ready for any scenario" in Gaza.

"We'll handle this in a very determined and very calculated manner," he continued.

"We're dealing with a theological junta that took control over 2 million people. They (Hamas) were 3,000 men strong before the wretched, erroneous and tragic disengagement, and today they are 65,000 men strong," added the prime minister, who voted in favor of the Gaza Disengagement in 2005.

"They are committed to our annihilation, and that is why they're not partners for dialogue in the diplomatic sense. But they understand our other messages well, and we won't allow them to continue. We also won't allow them to even dream of carrying out their plans," Netanyahu vowed. "The first thing I'm committed to is security: No rockets, no mortars and no (incendiary) balloons."

Near-daily protests along the Gaza border since March 30 against Israel's 11-year blockade of the enclave have sparked repeated clashes with the IDF.

On Tuesday, a 17-year-old Palestinian was shot dead and several others were wounded by IDF fire as some 200 rioters clashed with Israeli security forces east of Deir al-Balah in the southern Gaza Strip.

According to the IDF, the Palestinians set alight tires and threw explosive devices and stones at Israeli troops, who responded with riot control measures, as well as sniper fire, which intended to neutralize the main instigators.

Meanwhile, six fires broke out in Israeli communities near the Gaza border on Tuesday, caused by incendiary balloons from the strip.

The fuel deal, brokered by the United Nations and backed by the United States, Israel and others, briefly brought thousands of liters of diesel into Gaza daily to boost the impoverished territory's electricity supply.

But the daily shipments to Hamas-ruled Gaza's only power station lasted merely for three days.

Under the limited agreement Qatar, a longtime Hamas backer, was to pay $60 million for fuel to be brought into Gaza over six months.

Yoav Zitun and Matan Tzuri contributed to this report.