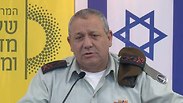 IDF Chief of Staff Lt. Gen. Gadi Eisenkot
Photo: Amit Hoover
IDF Chief of Staff Lt. Gen. Gadi Eizenkot said Wednesday that IDF's cyber-security system, the most advanced field of the past decade, went through a complete reorganization process to combat cyber terrorism—the new threat facing Israel.
Speaking at a book launch for "Regulation in cyberspace" at the Academic Center for Law and Science, Eizenkot talked about the security challenges the military faces in light of growing cyber threats and the army's plans to combat it.
"We completed a whole reorganization process within the army to improve inter-organizational cooperation with the state. We conducted quite a few exercises and drills both within the IDF, as well as in cooperation with other organizations, understanding very well that this is a challenge that requires sharing our information, especially with friendly military forces," he explained.
"This is a threat that has hidden depths," Eizenkot said, adding that "somewhere along the line, the ability to gather, defend and attack will be grouped under one command."
Earlier Wednesday, Education Minister and member of the Political-Security Cabinet, Naftali Bennett, took a firm stand regarding the situation in the south.
"Earlier today the GOC Southern Command addressed the situation in Gaza and said that we are not attacking terrorist cells responsible for launching incendiary balloons to avoid risking a possible ceasefire arrangement with Hamas. I have nothing against the IDF; the responsible body is the government. Israel does not harm terrorists who launch incendiary balloons to avoid risking a deal? Am I hearing clearly?" Bennett vented.
"Is this the Israeli 'policy?' First of all we need to regularize the security policy of the State of Israel. To determine clearly that security comes before a resolution. Protecting our civilians must come before a deal with Hamas, we mustn't give in to blackmail," Bennett asserted.
According to Bennett, "there is an ongoing negotiation process while violence directed against us continues: destruction of the border fence, infiltration into Israeli territory, throwing of explosives. But we are negotiating, so god forbids we shoot you."
"The State of Israel should return to a basic principle that I have been trying to promote for the past eight months: the border is definite; terrorists do not touch the fence, do not cross the fence, and do not break the fence. The simple rule should be—zero tolerance for terrorists," the minister concluded.
On Wednesday morning after a 12-day halt—imposed over violent border clashes, Israel resumed the supply of Qatari-bought fuel into the Gaza Strip. The move was made with the approval of Defense Minister Avigdor Lieberman, who adopted security officials' recommendation.
Speaking at the change of command ceremony in the Gaza Division, GOC Southern Command Maj. Gen. Herzi Halevi said Wednesday "the gates of Gaza are heavy. We're in a complex time. Our advantages in comparison to our enemies are clear. Our enemy in Gaza seeks every possible way, above the gorund and underground, to harm us. Patience and ploys are required."