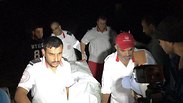 Bodies of Palestinians taken to Gaza hospital
Three Palestinians were killed Sunday during an IDF airstrike near Khan Yunis after they were identified placing a suspicious object, believed to be an explosive device, on the border fence.

The Palestinians were spotted by a Gaza division observation post while they were crawling in the dark towards the security fence with the suspicious object.

After being pronounced dead, the Palestinians' bodies were transferred to a hospital in the strip.

The IDF launched an investigation into the incident.

The Security Cabinet—which convened two weeks ago following a rocket attack launched from Gaza on a Be'er Sheva home and in the sea off the shores of a city in central Israel—instructed the IDF to gradually exacerbate its retaliatory actions to violence along the security fence and to demonstrate a zero-tolerance approach.

On Friday, Four Palestinians in their 20s were shot dead during the weekly Hamas-led Gaza border riots, despite earlier report by the The Al-Hayat newspaper, according to which Israel and Hamas managed to reach understandings regarding a long-term ceasefire arrangement, which would see the lifting of the Gaza blockade in exchange for complete cessation of border violence.

IDF Spokesperson's Unit said that some 16,000 demonstrators attended Friday's riots, hurling Molotov cocktails, hand grenades and stones at the security forces, and burning tires.

In response to some 39 rockets launched into Israel from Gaza overnight Friday, Israeli Air Force (IAF) aircraft struck some 87 targets across Gaza early Saturday, in the heaviest exchange of fire since August.

After hours of fire exchanges, a spokesman for the Islamic Jihad said that understandings had been reached for a ceasefire with Israel with the help of Egyptian mediation.