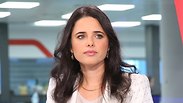 Justice Minister Ayelet Shaked
Photo: Yaron Brener
Justice Minister Ayelet Shaked has admitted that giving Prime Minister Benjamin Netanyahu a public ultimatum was a mistake.

Shaked and Education Minister Naftali Bennett threatened to resign from the government, which would have inevitably led to early elections, if Bennett is not appointed defense minister, a position vacated after Avigdor Lieberman resigned and took his Yisrael Beytenu party out of the coalition.

"From our history with Netanyahu, we can see that unfortunately we succeed in achieving our goals only with such measures," Shaked told Yedioth Ahronoth in an interview that will be published in full on Friday.




"Perhaps we shouldn't have given him a public ultimatum. Maybe. It's clear we've made mistakes, but we're only learning from it. There are some political battles you lose," she added.

Shaked denied that she and Bennett had already decided to resign but backed out at the last moment. "We didn't make such a decision. We considered resigning, but in the end we decided to put our pride aside and continue (in the government). We lost this round," she said.

The justice minister also argued Netanyahu should not keep the defense portfolio to himself.

"The prime minister's decision to keep the defense portfolio is wrong," she said. "The State of Israel needs a full-time defense minister. Bennett would've been good for that. The prime minister of Israel is the most difficult job in the world. A prime minister who holds many portfolios and does the job of ministers as well, (risks having) bureaucrats running the ministries. It shouldn't be that way. Naftali Bennett is the most suitable candidate for the job."