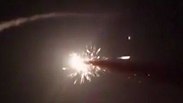 Alleged IDF strike in Syria
Sources in the US Defense Department claim that several senior Hezbollah officials had been hit in an alleged Israeli airstrike near Damascus, according to a report Wednesday by Newsweek.

Tuesday night's strike, apparently targeting Iran and Hezbollah's arms depots located southwest of Damascus, occurred shortly after the terror group's officials had boarded a plane bound for Tehran. The source said the information was obtained from a senior Israeli military officer directly linked to the attack, Newsweek reported.

IDF strike in Syria

The Britain-based Syrian Observatory for Human Rights, a war monitor, said Israeli airstrikes targeted three positions south of Damascus and at least three Syrian soldiers were also wounded in the attack.

The source also said one of the main targets of IDF bombing was Iranian shipments of advanced GPS components meant to help Hezbollah convert its arsenal of unguided rockets into precision-guided missiles, thereby increasing the threat to Israel.

As in previous reports of attacks in Syria, this attack is also connected to an Iranian plane. On Tuesday morning, the Boeing 747 of Iranian airline Fars Air Qeshm, which is affiliated with the Revolutionary Guards, took off from Tehran International Airport (THR) to Imam Khomeini International Airport (IKA).

At 5:30pm, the plane took off for Damascus International Airport where it landed shortly after 7:45 pm. The plane was apparently used to transport military equipment to the Syrian army and Hezbollah.

Hezbollah's information channel reported that S-200 missiles were launched against the attack missiles. The Syrian Assad regime has yet to respond to the reports.