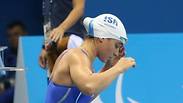 Inbal Pizro
Photo: Keren Isaacson
Malaysia will not allow Israel's Paralympics swimming team enter the country to participate in the World Para Swimming Championships in July, despite two months of efforts by the Israel Paralympics Committee.

The event, set to be held in the Malaysian city of Kuching, is a critical one since the results will affect the formulation of 2020 Paralympics in Tokyo. The city will play host to more than 600 swimmers from 70 countries. The fact that there are no diplomatic relations between the Jewish state and Muslim nation is making it hard for the Israeli team to obtain visas.

The directors of the Israel Paralympics Committee have tried to involve the Sports and Culture Ministry as well as Alex Gilady, an Israeli member of the International Olympic Committee, in an effort to obtain visas, but have yet to receive a response.

Only recently, Malaysian Prime Minister Mahathir Bin Mohammad criticized the Australian government's decision to recognize west Jerusalem as the capital of Israel: "Jerusalem has always been Palestinian territory and it must remain in its current status," he said.

The chairman of the Israeli Olympic Committee, Nisim Sasportas, told Ynet: "For some time now we have been trying to guarantee our participation in the world championships. In principle, everyone says that it will work out, but we have still not received an invitation or visas. We are continuing to apply pressure. We have letters of support from the International Paralympics Committee, the European Paralympics Committee and the Olympic Athletes Committee, and hope that they allow the athletes and their security entourage to participate."

In 2010, a special visa was issued for the Israeli boxer Ilya Grad to participate in the AXN Asia reality show, making him the first person to enter Malaysia on an Israeli passport.

Recently, there have been a number of incidents in which countries refused to allow participation, or made entry difficult, for Israelis in sport competitions. In 2015, Maayan Davidovich entered Oman on an Austrian passport to participate in the Wind Surfing Championships without displaying the Israeli flag or performing the national anthem. That same year, Misha Zilberman received a last minute visa for a Badminton game in Indonesia.

Just last year, for the first time, the Israeli Judo team in Abu Dhabi was allowed to display the flag and play the anthem. Next month, Israeli weightlifting and fencing teams will compete in the UAE after being issued visas by the Gulf emirate.