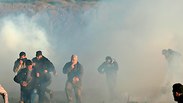 Gaza border riots, January 11, 2019
Photo: AFP
A 43-year-old Palestinian woman was killed on Friday during clashes with IDF forces on the Gaza border fence, the Palestinian health ministry said.
The IDF said that some 13,000 Palestinians are rioting on several locations along the security fence, throwing explosive devices and trying to cross into Israel.
Violence has spiraled during this Friday's "March of Return" protests, as scores of Palestinians hurled grenades and stones at IDF forces, as well as burned tires.
In addition, an IDF soldier was lightly wounded during the skirmishes after he was struck by rocks. The soldier was evacuated to a hospital for further medical treatment.
In response, an Israel Air Force aircraft targeted two Hamas military posts, while IDF troops responded with crowd-dispersal means and sniper shooting.
Palestinians attempting to cross into Israel, January 11, 2019
Three suspects have breached the security fence in the northern Gaza Strip, prompting IDF forces to open fire at them. The perpetrators returned to the strip shortly thereafter.
Earlier, a Palestinian assailant attempted to stab IDF troops stationed at a military post adjacent to the Givat Ha'avot neighborhood. The troops and a civilian who was at the scene neutralized the Palestinian.
He was evacuated to receive medical treatment.
Scene of attempted stabbing attack in Kiryat Arba
None of the IDF troops were injured.
Over the past two weeks, Hamas has toned down its call on demonstrators to show restraint during weekly protests, which led to exacerbated violence in recent riots.
On Sunday, Gaza militants used a cluster of balloons to fly a styrofoam airplane carrying an explosive device into southern Israel. The plane landed in a field in Sdot Negev Regional Council, near the Gaza border, and was neutralized by police sappers. The process caused the device to explode, but no damages or injuries were reported.
In response, Israel Air Force helicopters struck a position belonging to Hamas in southern Gaza, which led the terror organization to launch a rocket overnight Sunday toward Ashkelon and the Hof Ashkelon Regional Council. The rocket was intercepted by the Iron Dome system.
In retaliation, the IAF attacked several terror targets at a Hamas military base in northern Gaza.
There were no injuries reported on either side.
Following the incident, Israel decided to halt the third installment of $15 million Qatari cash infusion that was supposed to be paid out this week to Palestinian civil servants in the Gaza Strip.
Meanwhile, the Egyptian intelligence delegation left the Gaza strip through the Erez crossing.
The delegation arrived at the coastal enclave on Thursday to discuss ways to preserve the relative calm recently achieved between Israel and Hamas.
Furthermore, the Egyptian officials tried to resolve the crisis created between the terror organization and the Palestinian authority amid Hamas' renewed control of the Rafah crossing after the authority had announced that its security forces had been withdrawn and would not continue guarding the crossing.