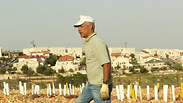 Rizq Salah working in the fields near Netiv Ha'avot
Convicted terrorist farms land near Israeli settlement
Terrorist Rizq Salah killed IDF soldier Guy Friedman with an explosive device in 1990, but now he is allowed to cultivate land near Netiv Ha'avot; IDF: 'After verifying his right to the land and in the absence of other security impediments, his access to the land was allowed.'
Residents of Netiv Ha'avot in Gush Etzion were shocked to discover recently that the man working the fields near their homes is Rizq Salah, a Palestinian terrorist who killed IDF soldier Guy Friedman 29 years ago.

"We were alarmed to discover who he was. Our children play in these fields; it's a terrifying situation," said Orit Noy, a resident of Netiv Ha'avot.

According to the Israeli Civil Administration, Salah, who currently resides in Bethlehem area, is cultivating private land he has proven ownership over near the temporary homes of Nativ Ha'avot.

But Yishai Hamo, the director of right-wing pro-settler group Regavim, claims the documents Salah presented to the Civil Administration do not prove his ownership of the land. Hamo said Regavim intends to ask the Civil Administration to examine the matter further.

"Salah is a terrorist and a dangerous convicted murderer. Giving him permit to work a spitting distance away from residents' homes is simply inconceivable. This is an outrageous," he said.

Shlomo Ne'eman, head of the Gush Etzion Regional Council, echoed his sentiments. "It is inconceivable that a terrorist who murdered a soldier is free to walk around near the settlement. We will not rest until Salah is expelled from the area," he said.

Paratrooper Guy Friedman was with his unit on operational duty in Bethlehem in December 1990 when several explosive devices planted by Salah went off near the city's governor's house. As a result, Friedman was seriously wounded and later succumbed to his injuries. Following the attack, Salah was convicted of murder and sentenced to life in prison.

In 2013, as part of an Israeli-Palestinian deal, more than 20 terrorists with blood on their hands were released from prison, including Salah. Since his release, Salah has joined the Palestinian security forces as well as began working in agriculture.

About four months ago, the IDF issued a closure order to the land in question since Salah's claim to the plot hadn't been verified at the time. However, because the order expired a month ago, the convicted terrorist is free to cultivate the fields near the settlers' homes.

The IDF said in response that "To maintain security and the public order, the military commander in Judea and Samaria makes use of various kinds of orders and injunctions. Closure orders were issued from time to time on the land in question until the land's ownership was verified. After verifying (Salah's) right to the land, and in the absence of other security impediments, his access to the land was allowed."