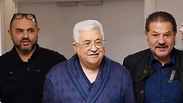 Abbas at the hospital in Ramallah in May
Photo: Reuters
Palestinian President Mahmoud Abbas's health had declined over the past year and his doctors feared for his life, but thanks to secret treatment by a specialist from Israel, his condition improved significantly.

On May 20, 2018, Abbas was hospitalized for the second time over a 24 hour period at the Istishari Arab Hospital in Ramallah with pneumonia, a complication of a severe ear infection he had suffered from. Doctors feared the 83-year-old Palestinian leader would suffer a complete systems failure.

While the Palestinian Authority did all it could to mislead the public and the media about Abbas's real condition, Israel learned of his rapidly deteriorating condition and decided to offer the Palestinians to treat Abbas at an Israeli hospital, where he could receive the most advanced medical care.

While the Palestinians decided to politely reject the offer, fearing such a move would be met with harsh criticism from the Palestinian public, Palestinian officials expressed their gratitude nevertheless.

Israel, in turn, decided to send a specialist to Ramallah, who joined the team of foreign doctors already treating the PA leader in an effort to stabilize his condition. After two days of intensive care, the Palestinian leader got better, and a week later he was discharged from the hospital.

The elderly Palestinian leader's medical condition had seen several ups and downs in 2018. In February, after a speech at the United Nations, he was secretly admitted to a Baltimore hospital specializing in diagnosing and treating cancer. Following rumors of his deteriorating health, his spokesperson insisted Abbas went to the hospital to undergo routine checkups, without offering any additional details. But it is believed the medical testing was meant to rule out stomach cancer.

Since being released from the hospital in late May, Abbas has been gradually returning to work. While he seldom arrives to his office at the Mukata'a in Ramallah and holds many work meetings at home, he remains lucid and stable. As part of the changes Abbas made to his lifestyle, he quit smoking after years of heavy smoking.