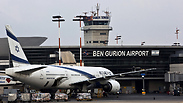 Syria's Ambassador the United Nations Bashar Ja'afari threatened Tuesday that Damascus would target Ben Gurion Airport if the UN Security Council does not put an end to the repeated Israeli strikes in the country.
Speaking before the UN Security Council, Ja'afari addressed the attack the Israeli Air Force carried out early Monday on Iranian Revolutionary Guards' elite Quds Force targets near Damascus, hitting a munition storage sites, a site located in the Damascus International Airport, an Iranian intelligence site and an Iranian military training camp.
"Isn't time now for the UN Security council to stop the Israeli repeated aggressions on the Syrian Arab republic territories?" Ja'afari said according to Syrian state news agency SANA.
He further wondered if Syria should draw the council's attention by "practicing its legitimate right of self-defense and responding to the Israeli aggression on Damascus International Airport in the same way on Tel Aviv Airport."
At least 21 people were killed in the raid in Syria, the Syrian Observatory for Human Rights said Tuesday. The UK-based monitor said the death toll included 15 foreign nationals, of which at least 12 were members of the Iranian Revolutionary Guards. Syrian state-run news outlets said that at least four Syrian soldiers were killed in the bombardment.
In an official statement, the IDF Spokesperson's Unit confirmed that "During the strikes, dozens of Syrian surface-to-air missiles were launched, despite clear warnings to avoid such fire. In response, several of the Syrian Armed Forces' aerial defense batteries were targeted."
"Iran firing at Israel is another proof to its intentions while attempting to entrench is Syria, and the danger it poses to Israel and to regional stability. The IDF will continue to act with determination against Iranian entrenchment in Syria," the army said.
"Israel sees Syria as the one responsible for Iran's actions on its soil, warning it to avoid any action against Israel," the IDF added.
All Israeli attacks were carried out near Damascus, where the military has recently destroyed the last of the intelligence bases that the Iranians tried to establish near the border with Israel.
The Russian Interfax news agency quoted Moscow's defense control center as saying that Syrian military air defenses destroyed more than 30 cruise missiles and guided bombs during the Israeli air strikes.